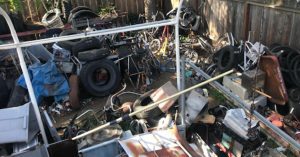 Hoarding affects many homeowners throughout the country in some way or another. Whether it's them being hoarders themselves, renting to hoarders, or having relatives who are hoarders, this affects Americans across demographic lines. Those who endure hoarding in some way often have to contend with multiple issues, not just the junk itself. The accumulation of excess junk can create multiple issues with liabilities and damages that may not be visible until clearing out the house. Unfortunately, homeowners insurance might not cover these damages. This article examines whether or not insurance companies cover hoarding and what you need to know.
Do Insurance Companies Cover Hoarding?
The short answer to this question is that it's complex. Having an excess of items can complicate attempts by insurance representatives to provide accurate estimations of how much coverage is necessary to cover a property. The longer answer is that hoarding is a complicating factor concerning insurance. Hoarding will not prevent someone from getting insurance. However, insurance companies may note it as a factor that puts hoarders at greater risk of accidents and damages to the home, such as mold, flooding, and fire. Part of the issue comes down to the nature of hoarding,
a disorder
in itself and behavior that also can manifest as part of another disorder such as Obsessive-Compulsive Discord. Because it is a behavioral disorder, insurance companies know that the issues resulting from this activity could be chronic. It is not easy to hide evidence of this disorder, so you should be ready to explain the excess junk in your home if you are attempting to get insurance.
How Are Hoarding Claims Handled by Insurance Companies?
Insurance adjusters and investigators will respond to hoarding claims just as they would any other type of claim. However, the results can be surprisingly drastic for an unprepared family.
Inspection
The first step of any claim is an inspection. For a hoarding situation, the inspection can be more challenging, as the piles of junk may prevent the inspector from completing the investigation thoroughly.
Disclosure and Adjustment
The inspection will determine the claim process. If the inspection proves overly demanding or, worse yet, unfeasible because of the accumulated junk, the adjuster may deny the claim.
Hoarding is a serious factor that can severely and negatively affect a house. In some situations, if the hoarder's habits played a role in the damage to the insured property, the policy provider will adjust the homeowner's policy or drop the insured altogether.
Follow Up
There will be follow-up in the wake of an investigated claim involving hoarding. The follow-up may include a  decision on a claim and an adjustment to the policy.
How Hoarding Can Affect Homeowner's Insurance
A hoarder's items can negatively affect the safety of a home in several ways. Understanding these issues is necessary since hoarding has a tangible impact on the decisions of insurance providers and whether they can cover a hoarder's home. Not only that, but the risks of hoarding could pose serious hazards to the health and safety of its occupants.
Liability Issues
A hoarder's home is an unsafe place to visit or live in due to the piles of accumulated junk. There are increased dangers of getting sick due to air issues associated with hoarding. Junk can cover water damage, mold, dead rodents, and other health hazards.
The excess junk also increases the likelihood that a visitor will trip on an object or otherwise get injured. Then, the responsibility falls on the property owner.
Insurance providers must take these liability issues into account. Depending on the severity of the issue, it could make providers less likely to want to cover hoarders.
Fire and Maintenance Issues
One of the significant dangers of hoarding is that junk can impede access. It can make it harder for maintenance professionals to reach different parts of a home for critical maintenance. Impeded access makes a home harder to insure since the risk of damages and health hazards increases without proper maintenance.
Also, there is an increased danger of a fire and the possibility that the occupants might find escape routes blocked. These present liability issues as well, making coverage less likely.
Conclusion
The dangers of hoarding are easy to underestimate, but insurance providers understand the real threat to a home. The best route here to get insurance coverage is to get help and manage the hoarding issue. If you or
someone you know has a hoarding disorder and needs assistance
, seek out kind-hearted, experienced professionals to help with junk removal. At Nixxit, we provide a friendly service that is cost-effective, eco-friendly, and judgment-free. Call or book online today to request
help for hoarders
!
Need Help with a Hoarder Cleanout in the Bay Area, CA?
Nixxit Junk Removal can help with your hoarder cleanout needs in the Bay Area.
10+ Years of Experience Working with Hoarders
Locally Owned and Operated
Sensitive and Discreet Approach
Full-Service Removal and Sorting
Donation and Recycling
Get Started