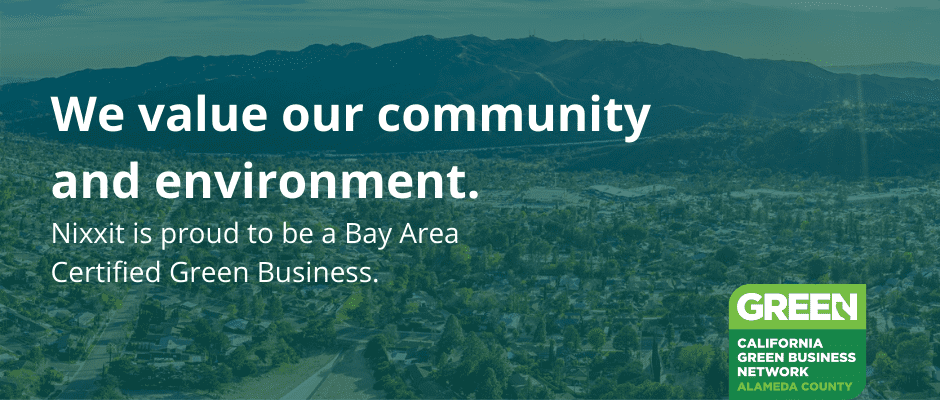 Nixxit is proud to celebrate our recent Bay Area Green Business Certification. Thus, making us one of only a handful of green-certified junk removal and hauling companies in the Bay Area.
To celebrate our Green Business Certification, we are offering our customers $30 off a full truck load or $15 off a half of truck load or less when you call or book online and mention this Green Business Certification post from January 1st 2020 through the end of February 2020.
Piloted by the Alameda County Environmental Health Department, the Green Business Program verifies that businesses meet a high standard of environmental performance.
Certified Green Businesses are in compliance with all applicable environmental regulations and have successfully implemented additional green measures into their business practices.
Some Green Business practices include:
Water Conservation

Energy Conservation

Pollution Prevention

Carbon Footprint (Greenhouse Gas Emissions) Reduction
As Bay Area natives, Nixxit truly cares about making a difference in our local community. We believe in being more than just a business but a solution to a larger problem, which is why we are thrilled to be recognized for our additional efforts.
Thriving communities are everyone's responsibilities, including our own. To us, that means that as a junk removal company, we are in a unique position to do something more. We see ourselves almost as the liaison between our customer's waste and the landfill. We act as a third party and make every effort to make sure our customer's junk doesn't get there.
In an effort to meet our 80% landfill diversion goal, we systematically evaluate everything that we haul away to assure that things are disposed of in the most environmentally friendly way possible. As experienced haulers, when we walk into a room we simply see things a little different.
We have learned what can be broken down and recycled, what contains hazardous pollutants, and what can be re-homed and given a second chance at life. Just a little bit of extra effort every day from haulers like ourselves can make a huge difference at reducing landfill accumulation and we've committed to doing our part.
In addition to helping preserve the environment through sustainable disposal practices once we've hauled away items, Nixxit has implemented other green initiatives that extend into our daily operations. This has allowed us to operate with total efficiency.
Nixxit's Other Green Initiatives
Some of our green initiatives out in the field and in the office include:
Paper/Waste Reduction Practices
We believe in walking the talk when it comes to eliminating waste wherever possible. We provide customers with paperless receipts and invoices and we have digitized almost all of our daily operations.
Additionally, we have consciously opted to promote using mostly digital marketing instead of traditional print media. The few items that we do print are made with 100% post-consumer recycled material.
Lowered Fuel Consumption and Route Optimization
Our team makes responsible decisions about fuel usage. From specialized route-planning to ensuring we carry loads as efficiently as possible, we work hard to minimize our trucks' fuel consumption and carbon dioxide emissions. Additionally, our trucks are about 10-20% bigger than our competitor's trucks, which means we can load more, make fewer trips, and put fewer trucks on the road.
Repurposing & Donating Materials
Over the years we've built up a large resource list of local non-profits, people in need, local schools and teachers, and more. When hauling away items, we always attempt to give items a second home.
Recycling Materials Metal
We send all of our scrap metal to recyclers, keeping tons of waste out of landfills. Additionally, E-Waste is always taken to a designated e-waste recycling center.
Local Action, Global Impact
Being a certified Bay Area Green Business means that Nixxit is now a part of the larger picture. The measured results of all 3000+ California Green Businesses put together nets some pretty large environmental outcomes:
Over 800,000 metric tons of greenhouse gas emissions reduced, the equivalent of planting over 40,000 urban acres of trees a year for ten years.

Enough kilowatt-hours saved to power 25,000 houses for an entire year.

Over 400,000 metric tons of waste diverted from the landfill, almost 60,000 garbage trucks worth of waste eliminated.

124 million gallons of water saved

Over 28,000 gallons of hazardous waste eliminated.
You can learn more about our environmental commitment here.
Celebrating Nixxit's Commitment To Sustainable Junk Removal
To celebrate our Green Business Certification, we are offering our customers $30 off a full truck load or $15 off a half of truck load or less when you call or book online from January 1st 2020 through the end of February 2020. Simply mention this Green Business Certification post at the time of booking or during your appointment to receive your discount! (Note: You must mention this Green Business Certification post to receive the discount)
Ready to learn more? See what we take here.