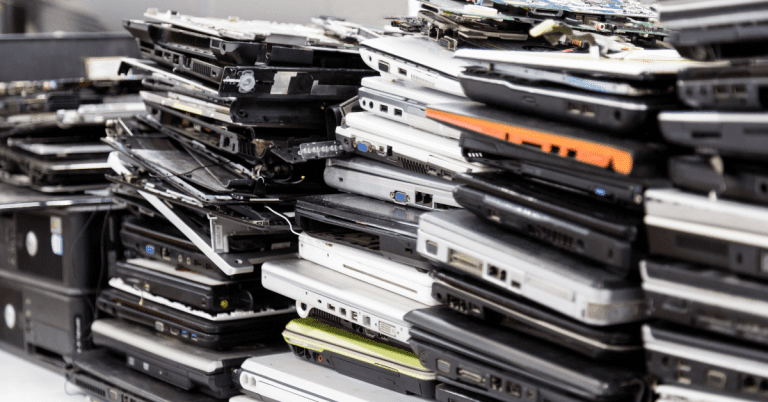 If you find yourself stuck with an old laptop that's no longer up to date, it's time to get rid of it. But what do you do? And how do you do it safely and responsibly? Do you throw it away?
Throwing electronics like laptops away is irresponsible and bad for the environment. Instead, there are three recommended ways to get rid of your old laptop responsibly, from donating it or trading it in to recycling it or selling it. But before you do, save and clear your computer of any data or information you don't want others to access.
Below, find our simple guide to responsibly getting rid of an old laptop.
Backing Up Your Files
Losing your laptop files can be an incredibly stressful experience, especially if you're in the middle of a project or have stored important information on your laptop. Don't let that be you! It's essential to back up your laptop files to avoid situations like this. But what are the best ways to go about it? Let's explore the three most straightforward ways to back up your laptop files.
Transfer Files to New Laptop
One of the most effective ways to ensure you don't lose any critical laptop data is by transferring all your existing files to a new laptop. It requires little effort if you've already purchased a new laptop or have a spare laptop to which you'd like to move your data. You can transfer your files manually by copying and pasting each file from one computer to another, or you can invest in a data transfer cable that will allow you to transfer all your files quickly and easily with minimal effort.
If you need help moving your files over, whether manually or through a transfer cable, plenty of online resources can help walk you through it. Anyone who owns an Apple device can use the Migration Assistant tool to help move things quickly.
Transfer Files to External Storage Device
Another great way to back up your laptop files? Transfer them to an external storage device. Many external storage devices are available, such as hard drives and flash drives, so choose whichever suits your needs. Make sure you purchase an external storage device with enough memory capacity for all the data you need to save. You don't want to assume all your files have transferred over, wipe out your old laptop, and then realize you've lost valuable information!
First, check to see how much capacity your data is currently taking up on your Mac or Windows laptop. Then, browse for an external storage device with a storage capacity that at least matches the capacity you've already reached. It's a good idea to purchase a device with more storage than you currently require to add more data as needed.
Save Files in the Cloud
Finally, saving your essential data in the cloud is another great way to back up your computer files without worrying about losing them due to hardware failure or other unfortunate events. Storing data in the cloud has numerous advantages, including increased security and improved access control. Plus, it's easy and convenient — you only need an internet connection! iCloud is an excellent feature for Mac users, but there are plenty of alternative options.
Erasing Your Personal Information
Make sure all your personal information is removed from your laptop before you part with it. Fortunately, there are two easy ways to do this.
Wipe Your Hard Drive
One way to erase your personal information from your laptop is by wiping the hard drive. This process involves overwriting all of the data on the hard drive with zeros and ones to render it unrecoverable. To do this, you'll need a special software program for wiping hard drives. Once you download and install the program, follow its instructions carefully to ensure that your data is indeed wiped clean.
Perform a Factory Reset
Another option is to perform a factory reset on your laptop, which will erase all the data stored on its hard drive. This process may differ depending on what laptop model and make you have. It typically involves booting up into recovery mode and following the steps outlined in the manufacturer's instructions. Once complete, you will erase all your data, and any new user who logs into the laptop won't be able to recover it. Anyone who uses the laptop after you will see the same thing they'd see on a brand-new computer from the factory. No personal information is left behind.
Disposing of Your Old Laptop
Once your data has been transferred, and anything leftover has been wiped or reset from the hard drive, it's time to decide how to dispose of your old laptop. You can choose between donating, trading in, or recycling it. We don't recommend throwing a notebook computer away since hazardous materials are inside that can harm the environment and us.
Donating Your Laptop
Donating your laptop is a great way to help out people who can't afford a new one – while also disposing of it properly. Do a local search for charities and organizations that accept used laptops to refurbish and give them to those in need. There are several in the Bay Area that specialize solely in this, you will just need to be able to drop off your laptops to them. Plus, you can receive a tax deduction for donating your computer if it meets the IRS regulations for charitable donations, giving you a bit of a boost when tax season rolls around.
Trading in Your Laptop
If you want to get something in return for your old laptop, consider trading it in for cash or store credit. Many electronics stores, such as Best Buy, Amazon, and Apple, offer trade-in programs that will pay you money or provide store credit for old trade-ins. The amount of cash or store credit offered depends on the age and condition of the device. If your laptop is in good condition, you can earn more in cash or credit than you could if the laptop is in poor condition. A laptop that is damaged beyond repair is not usually eligible for trade-ins.
Recycling Your Laptop
Recycling is always an option if donating or trading it in doesn't speak to you. Like donating, recycling may not be the most lucrative option, but properly disposing of e-waste is vital to protect our environment from toxic materials like lead, mercury, cadmium, and other hazardous chemicals found within laptops. As a fully licensed and insured waste removal company, Nixxit Junk Removal can help you recycle the old laptops and electronics lying around your home or office. Our high environmental standards earned us recognition as a Certified Bay Area Green Business, and we're committed to recycling junk whenever possible.
Frequently Asked Questions
Can I Just Throw Away My Old Laptop?
No, you should never throw away an old laptop. Most components inside contain toxic materials such as lead, mercury, and cadmium that can leak out of landfills into our environment and cause significant damage. To ensure your device is disposed of properly, it's best to go through a certified e-waste recycler.
What Is the Best Way To Dispose of an Old Laptop?
Recycling your device is the best way to dispose of an old laptop safely. Recyclers can take apart the machine, remove hazardous materials, and repurpose or reuse the remaining components to ensure none of the potentially toxic materials end up in landfills or our environment.
Are Old Laptops Worth Anything?
Yes, old laptops may be worth something depending on their model, condition, and components. If the laptop is still in good working condition, you may be able to sell it entirely. Even if the laptop isn't functional, you may be able to repurpose its parts for reuse or sell them separately.
Need to Get Rid of E-Waste? Call Us!
If you have old laptops you need to get rid of, call Nixxit Junk for electronics removal and recycling. But first, make sure you transfer any data you don't want to lose and clear your laptop of any remaining data to protect your privacy. Then, schedule a pickup time with our junk removal specialists. We'll haul them out of your way and dispose of, donate, or recycle them responsibly. Get rid of your laptop and small electronic junk once and for all. Reach out to schedule an electronics junk removal!
Need Help with Electronics Removal in the Bay Area, CA?
Nixxit Junk Removal can help with your electronics removal needs in the Bay Area.
Fully Licensed and Insured
Locally Owned and Operated
Full-Service Removal and Sorting
Donation and Recycling
Get Started