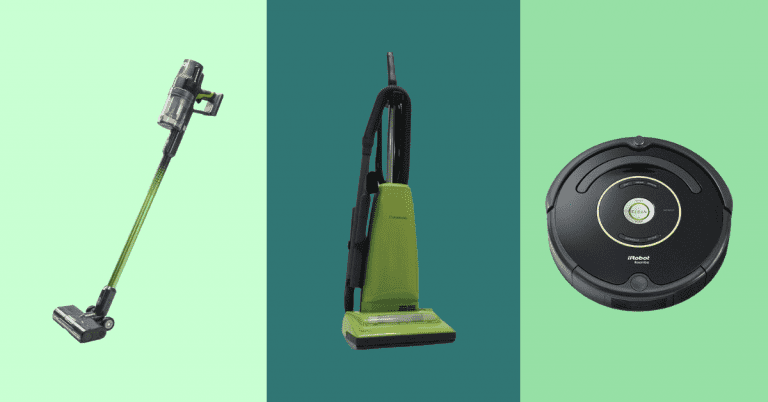 When your vacuum cleaner stops doing its job, fixing it may be more trouble than it's worth. That's when it may be time to get rid of it!
However, disposing of a vacuum isn't as easy as throwing it in the garbage. Not only is it bad for the environment, but it's also illegal in California.
In this guide, we'll discuss why you should recycle vacuum cleaners – and the different ways to get it done.
Why We Should Recycle Vacuum Cleaners
The safest and most environmentally friendly way to dispose of a vacuum cleaner is to recycle it. Most vacuum parts, such as rubber, plastic, and metal components, can be recycled. Below we'll cover the primary reasons you should recycle vacuum cleaners if they're ending their lifespan.
Environmental Impact
A not-so-fun fact: heavy-metal-based vacuum cleaners that make their way into landfills are typically burnt, producing toxic fumes that may accumulate in our water, soil, and biosphere. And these fumes may also seep into the very air we breathe, making recycling a powerful alternative.
Reduced E-Waste
E-waste accounts for about 70% of toxic heavy metals in landfills. When vacuum cleaners are dismantled and shredded, they release large dust particles into the environment, potentially causing respiratory health problems to nearby workers and civilians.
Additionally, as mentioned above, E-waste products like vacuum cleaners can contaminate water and soil – thanks to heavy metal and flame retardants bleeding into groundwater or crops. Makes you think twice about putting that vacuum cleaner out to the curb!
Boost Economy
According to the 2020 EPA recycling economic report, recycling has created over 681,000 jobs, resulting in $5.5 billion in tax revenue and 37.8 billion in wages.
If everyone in California recycled their vacuums, more jobs would be created, generating more revenue for the state. A rise in the recycling industry leads to more jobs being created in manufacturing factories, recycling facilities, and reuse stores.
So, What Do I Do With an Old Vacuum?
Let's start with this: dumping it off on the curb isn't your best option, so let's cover some safer alternatives for you and the planet.
1. Recycling a Vacuum
No matter where you live, you're likely to find a local recycling center near you. Not sure where to place it when you get there? On-site staff will direct you to the correct location. Make sure to ask about rates beforehand. Most Bay Area recycling centers charge by weight or cubic yards and have a minimum fee for drop off.
Another way to recycle your vacuum is to take it to the scrap yards, where they'll take the metal parts off you. Some scrap yards might even pay you to recycle certain metal parts! Win-win! Depending on the quality and type of metal, you can expect anywhere between a few cents to several dollars per pound.
Which Parts of a Vacuum Cleaner are Recyclable?
Recycling a vacuum isn't as easy as dumping it into the recycling bin, as the vacuum cleaner needs to be broken down into parts. The good news: about 90% of the vacuum parts, such as the cord, electric motor, hose, internal fan, attachment, floor brush, drive belt, suction control, and more, can be recycled.
Depending on the material of the parts, they can be broken down into various reusable consumer and commercial goods. Metal materials are melted down and remade into various products. Working parts such as the filter, hose, and motor may be used for other vacuums. Lastly, plastic components are remolded into household products.
2. Donating a Vacuum
If you have a vacuum that still works properly, why not donate it to someone else? Places like Goodwill accept vacuum donations; however, they must be in good condition, cleaned, and resalable. By donating the vacuum, you get a tax-deductible write-off. Additionally, many homeless shelters accept donations, so consider them as a resource.
3. Selling a Vacuum
Nowadays, it's easy to sell unwanted items. If your vacuum is in good working condition, take a picture of the machine and post it online. The most common resell marketplaces are Craigslist, eBay, Facebook Marketplace, and OfferUp.
Many of these sites allow you to set a fixed price or let you auction it to the highest bidder. We recommend taking several pictures of the vacuum and its attachments from different angles to boost your odds of selling it.
Some electronic stores may allow you to sell the vacuum parts such as nozzles, hoses, motors, brushes, or other attachments that can be reused. However, reselling the parts isn't as common, especially if it's an old vacuum with some wear and tear.
4. Trading in a Vacuum
If you don't want the hassle of selling your device online, you can opt to trade it in. For example, the manufacturer or local store that you purchased it from may allow you to swap in your old vacuum for cash or store credit. They'll access the value of your device and give you a trade-in value. Then, you can purchase something from the store using the store credit given.
Another popular route: community swapping events. Typically, these are organized to promote environmental causes and hosted by libraries, schools, or community centers. These events allow you to bring in your device and potentially swap it out for something of similar value.
5. Disposing of a Vacuum
If you don't have time to haul the vacuum to a recycling center, donation center, or to sell it yourself, there is a hassle-free solution. Companies like Nixxit Junk Removal takes the vacuum off your hands and recycles it for you! Typically, junk removal companies offer in-home pickup services, which do all the heavy lifting and hauling for you. They'll remove that unwanted vacuum cleaner along with other small appliances from your apartment, house, or condo.
Frequently Asked Questions
Here are the most commonly asked questions about disposing of a vacuum cleaner in California.
Are Vacuum Cleaners E-Waste?
Yes, unusable vacuum cleaners are considered E-waste, which negatively impacts the health of others and the environment – if recycled incorrectly or thrown into landfills. Old vacuums contain hazardous chemicals and substances that can contaminate water supplies and soil.
Is Plastic From a Vacuum Cleaner Recyclable?
Yes! Vacuum cleaners are made of a specific type of plastic called thermoplastic, which can be molded to form any shape. As a result, these plastics can be recuperated to become plant pots, furniture, car dashboards, shampoo bottles, traffic cones, and all sorts of innovative consumer goods.
Need to Get Rid of an Old Vacuum? Call Us.
Bottom line: try not to throw your old vacuum in the dumpster or curbside of your house. Beyond harming the environment, you could even be fined for it! If you have multiple small appliances to dispose of – from a vacuum cleaner to a tablet – hiring Nixxit Junk Removal is your best option.
In one fell swoop, we offer full-service same-day junk removal in the Bay area. Our team will ensure your unwanted vacuum cleaner and other appliances are disposed of responsibly. It's never been easier – book online to schedule an in-home or no-contact curbside pickup today!
Need Help with Appliance Disposal in the Bay Area, CA?
Nixxit Junk Removal can help with your appliance disposal needs in the Bay Area.
We Do the Heavy Lifting and Loading
Locally Owned and Operated
Full-Service Removal and Sorting
Donation and Recycling
Get Started