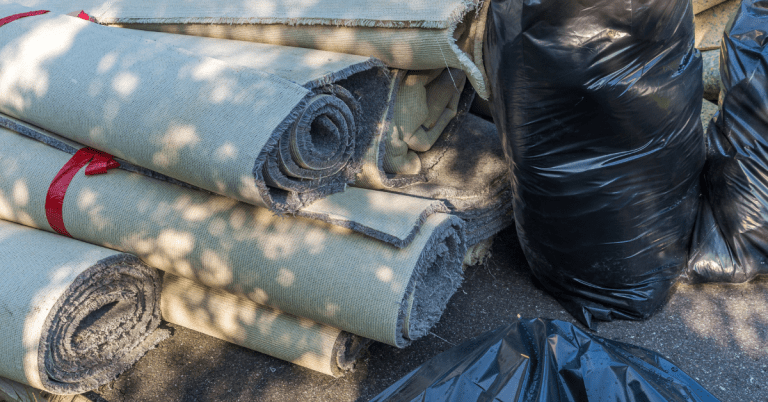 Replacing your outdated carpet can quickly change your space from drab to fab, but the process isn't always as simple as it may seem. The costs associated with removing and disposing of your old carpet can run high, and that's not even considering the prices of your new flooring and installation!
So, how can you dispose of one on your own? Here we lay out the process step by step. It doesn't have to be as complicated as it seems. We also share tips on carpet disposal and recycling to lessen your environmental impact. By the end of this article, you'll be ready to pull up those sleeves and get that dingy old carpet out of your life for good.
How Do I Dispose of Carpet Myself?
1. Gather Your Tools
First, you'll want to make sure you've prepared all the necessary tools you'll need for the process:
Utility Knife
Pry Bar
Floor Scraper or Hammer
Pliers
Duct Tape
Broom
Vacuum
It's also always a good idea to err on the side of caution, especially when doing home projects. You might not think the plush fibers underneath your feet are a health hazard, but carpets can contain toxic elements that impact indoor air quality and health.
When removing old carpet, safety is paramount for yourself and everyone in the home. Some supplies we recommend for safety purposes include:
Safety Glasses
Working Gloves
Dust Mask/ Respirator
Knee Guards (Optional)
2. Clear and Prep the Area
Before getting started, there are a few things you'll need to do to make sure the area is clean and ready to start your project.
First, remove any furnishings and other objects you won't be needing from the room.
Once your space is clear, you can vacuum the area beforehand to avoid unnecessary debris during removal. You'll also want to examine any doorways that might get in the way and consider removing them at this time.
Next, grab a pry bar to remove the baseboards and toe moldings gently. Once removed, store these items in a safe place to reinstall at a later time.
3. Cut into Strips
Once you have your working area prepared and your tools gathered, it's time to grab your utility knife!
With the knife, carefully start cutting the carpet into narrow strips. Continue to do so throughout the whole room.
Cutting the carpet into strips will make the pieces easier to manage for disposal. While doing this, remember not to cut so deep that you hit the subfloor underneath.
Note: If your utility knife is old and has a dull blade, you will most likely have difficulty completely cutting into the fiber. In this case, you may want to hold off on this step until you have the opportunity to cut the carpet from the backside in step five.
4. Pull Up Carpet
Don your safety glasses, work gloves, and respirator. Then, grab your pliers to grasp the carpet firmly. Once you have a tight hold, begin pulling towards you to disconnect it from the tack strip holding it down along the border of the wall.
Once it becomes detached, lose the pliers. You can use your gloved hands to continue pulling the strip away from the wall until the edges of that strip are clear of any tacks.
If working with carpet on stairs:
Start from the top of the staircase.
If applicable, remove the metal nosing.
Cut the area of carpet located at the very top of the stair riser.
With gloved hands, grab the carpet.
Start pulling while you work your way down.
If necessary, cut into pieces that are easy to manage.
5. Roll It Up
Now, you're ready to start rolling up your pieces of carpet. For those who had trouble cutting the strips in step three, take the opportunity to do so here.
Once you have rolled up your carpet, grab your duct tape to secure it together. Bag and dispose of it or place it elsewhere for the time being. Continue this step until the area is clear and the padding underneath is revealed.
6. Remove Tack Strips
This step may not be necessary for everyone. If the tack strips are in good shape and you plan on replacing your floors with a new carpet, skip to the seventh step.
If the strips are damaged and worn, or you plan on installing different flooring, grab your prybar and either a hammer or scraper. Use the hammer/scraper to allow your prybar to lift the tack strips and dispose of them.
7. Remove Old Padding and Staples
Using the same process as carpet removal, you can remove the padding in strips until the whole subfloor is revealed. Dispose of the padding.
Next, you can begin the meticulous process of removing each staple left on the subfloor.
This step can be time-consuming, but it's vital in ensuring the next flooring installation is even. Once you've removed each staple, you can use a broom and vacuum the space.
Frequently Asked Questions
Can I Put Carpet in My Recycle Bin?
You can recycle almost all types of carpet, but because you're generally tossing large amounts of it away, your weekly recycling center might not accept it.
What Can I Do With Old Dirty Carpet?
If your carpet is too old and dirty to sell or reuse inside, here are a few options you have:
Repurpose it for your garden, pets, etc.
Find a local recycling center that will accept it.
Offer it free on sites like Craiglist, Facebook, etc.
Hire a (sustainable!) junk removal company.
Can You Burn Old Carpet?
Under no circumstances should you burn your carpet! Burning the fibers emits toxic chemicals that are horrible for the earth and anyone inhaling them. To promote more sustainable methods of carpet disposal, California has introduced the https://calrecycle.ca.gov/carpet/law/ to encourage consumers to recycle.
Need Carpet Disposal & Recycling Experts? Get in Touch
At Nixxit, our certified green business in the Bay Area of San Francisco, California. Expect offers expert junk removal. Contact us today for free on-site estimates and upfront pricing on carpet disposal and recycling!
Need Help with a Property Cleanout in the Bay Area, CA?
Nixxit Junk Removal can help with your property cleanout needs in the Bay Area.
Full-Service Removal and Sorting
Locally Owned and Operated
Donation and Recycling
Same Day Appointments Available
Get Started