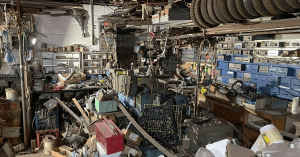 Clearing out a hoarder's garage can be a daunting task, but once it's done, it's extremely rewarding to see a clean and organized space.
But how do you even begin this herculean labor? Below, we've gathered some valuable tips to help you keep on track through the process.
1. Find the Time in Your Schedule
If you want to clean out a hoarder's garage, it's likely going to be a big job, so make sure you have the necessary time carved out in your schedule to see it through. Make sure you have plenty of time to get the job done, and you'll also benefit from ensuring the weather is nice. This way, you can put items outside without worrying about the weather damaging them.
2. Empty the Space and Sort Items As You Go
There's a reason good weather is your friend when working on a garage cleanup. It's easiest if you can start by removing the items from your garage to the driveway. As you do this, put items in specific categories.
Some good options for categories include the following:
Keep
Toss
Recycle
Donate
Action Items
From there, items in the "keep" pile should be sorted based on their use – such as tools, holiday decorations, and exercise equipment.
You'll want to handle the rest of the piles accordingly – donating, recycling, and tossing as necessary.
The action item pile will consist of things like items you've borrowed that need to go back to their owner, things that need repairs, or things that should be placed elsewhere within your home.
The first thing you'll want to do is remove the items that are clearly trash. This will help clear up physical and mental space and likely make a big difference right away.
If you have a lot of larger items in the "toss" pile, you may want to consider hiring a hoarder cleanout service to help get the job done.
When deciding what stays and what goes, it's important to think about the long term. You'll want to keep objects you use regularly, as well as seasonal things you use annually, such as holiday decorations. But things that you've never used, if you've had them for quite some time, it might be time to let them go.
When decluttering, it can be tough to choose to get rid of certain items, but it's important to allow yourself to let things go when you no longer need them. Chances are, you'll feel relieved once the entire process is complete.
3. Clean the Space
Once the garage is empty, you have an opportunity to properly clean the space. You can sweep the floor and hose it down so it's as good as new. If you want, you can even go an extra step and give it a fresh coat of paint to refresh the space, especially if it's gotten discolored and scraped after being used for many years.
If necessary, you can probably find a special cleaner intended for garage floors from your hardware store.
4. Organize
Now, it's time to really get into the organizing step. You'll be focusing on the keep pile for now.
You can start by making an organizational plan. Now that you know what you're keeping, it's time to decide where it'll be kept. While your garage is empty, it's a perfect time to envision where everything should go.
It's also a good time to invest in some organizational tools like a set of drawers, cabinets, containers, or shelves if you would like. Plan out how you will store and organize your items before you bring your things back inside the garage.
Ensure you have a plan in place before purchasing organizational equipment so you know what you need. Items that aren't used often should be in storage bins or closets, and items that are used frequently should be hanging or on shelves so they can be accessed easily. A peg board can help you hang tools such as saws and hammers.
You can also use websites like Pinterest to get inspiration for clever ways other people have tackled their clutter and get your imagination running on how you can do the same.
5. Have a Garage Sale
What about the items you don't want anymore? Well, now is a great time to consider having a garage sale. This way, your de-cluttering efforts can even result in some cash.
If you know ahead of time, you can even advertise for your garage sale. Don't forget to have some cash on hand so you can provide change to those who stop by to purchase something.
6. Donate Items
Things that you don't sell in your garage sale or that you'd like to get rid of can be donated so they can have a second life and benefit someone else. Make sure only to donate items that are still in good condition; nothing that's badly damaged or broken.
7. Make a Plan to Keep Things Organized
After all of your hard work is done, the last thing you want is to end up going right back where you started. Make a plan with everyone who uses the garage about how you'll keep things orderly, which includes putting things back in their place after using them.
It can help keep everyone on track with the plan if you put up signs indicating where items belong. This might mean labeling where the holiday decorations go, where the tools should be, and more.
8. Hire a Junk Removal Company
After this long process, you might have a lot of items that need to be disposed of, including things that might be too large to leave on the curb. Especially if you have several truckloads of things that need to be thrown away, it's a good idea to hire a junk removal company to help you handle the task.
When you've already done tons of work sorting and cleaning out a garage, why not reach out for help where you can and get a junk removal company to help you dispose of large amounts of trash or bigger items? This can help give you one less thing to worry about during the process of cleaning out the garage.
9. Wrap Everything Up
There are still some odds and ends that you might need to take care of at this point, such as items in the action pile we talked about earlier. Return items that you've borrowed, repair broken things you decided to keep, and more.
This is also a great time to make that trip to drop off the items you plan to donate. For anything you want to sell online, you can clean them up, take pictures, and get them listed.
Need Hoarder Cleanout Services in the Bay Area? Contact Us.
As you can see, a lot is involved in cleaning out a hoarder's garage, but the results are well worth it.
Of course, cleaning up a hoarder's garage is a huge task to handle by yourself. That's why at Nixxit, we offer hoarder cleanout services to help make the process easier. If you need hoarder cleanout services, get in touch or book online today!
Need Help with a Hoarder Cleanout in the Bay Area, CA?
Nixxit Junk Removal can help with your hoarder cleanout needs in the Bay Area.
10+ Years of Experience Working with Hoarders
Locally Owned and Operated
Sensitive and Discreet Approach
Full-Service Removal and Sorting
Donation and Recycling
Get Started