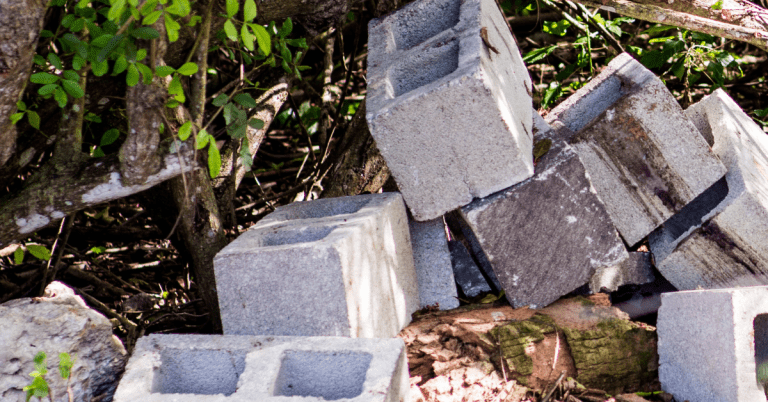 Cinder blocks are a great resource, whether you're finishing off some at-home DIY or a contractor working on an ongoing project. However, if you find junk cinder blocks needing disposal, find a suitable method. 
With concrete production contributing to CO2 emissions, it's never been more important to dispose of cinder blocks correctly. Read on to discover the five best options! 
5 Ways To Dispose of Cinder Blocks 
Dumpster Rent 
Renting a dumpster will bid you goodbye to your unwanted cinder blocks. It's also a good solution if you've got more than concrete to dispose of. For example, you might have brick, stone, asphalt, and other construction debris that can also go in the dumpster. 
Dumpsters come in various sizes to suit your needs, so before hiring one, consider what size and highest weight limit would suit you best. For disposing of large or bulky items, you'll require a much higher weight limit than if you're disposing of a few unwanted household objects. 
A dumpster can typically take between three and twelve truckloads of material, so whether your clear-out is big or small, renting a dumpster is an easy option. Hiring a dumpster also allows you to work at your own pace; you can schedule the dumpster's pick-up after a couple of days, or a couple of weeks, which is an effective removal method if you need flexibility when disposing of your cinder blocks. 
It's as easy as loading your dumpster yourself and arranging a pick-up when you need it. However, it's worth noting that while manageable, the dumpster method isn't an environmental solution. Most companies will transfer the waste from your dumpster to a landfill site. 
Recycling Center
If you want to avoid unnecessary landfill waste, taking your cinder blocks to a recycling center is a great solution. 
Before you arrive at the recycling center, consider whether or not your cinder blocks are reusable. It's best to sort your blocks into two piles before you go: reusable and non-reusable. Take both piles to the center; a broken cinder block can still be recycled.
With some research, you can find local eco-friendly contractors who would love to take your cinder blocks off your hands. There are likely to be plenty of local construction projects that would appreciate the extra resources. 
It would be best not to arrive at the recycling center unannounced. Ring them first to confirm if they can recycle your cinder blocks. Make sure to check the fee for the recycling process so that you don't get any nasty financial surprises. 
Hire a Junk Removal Company 
Only some people have time to research different recycling centers and then call round all of them. Disposing of your cinder blocks shouldn't be hard when you want to do some good, so hiring a concrete removal company, like Nixxit Junk Removal, is an ideal fix. 
Nixxit Junk Removal's service removes your unwanted concrete and cinder blocks, giving you all the ease of the dumpster removal method with the environmental consciousness of recycling centers.
At Nixxit Junk Removal, it matters that we recycle any recyclable materials. That's why once we arrive to remove your junk, we'll work hard to recycle or donate them on your behalf. For those needing last-minute junk removal or those who have had the spring clean in the running for a while, you can book a slot, and we'll get to you the same or the following day.
With efficient punctuality and affordable rates, hiring Nixxit Junk Removal can give you ease, affordability, and the knowledge that we donate or recycle any cinder blocks that can be.
Upcycle Them
It might not come as a surprise to learn that the production of cinder blocks is terrible for the environment, so finding ways to combat your carbon footprint is significant. Upcycling helps to counteract any environmental damage.
You can only upcycle some concrete materials. Still, upcycling old cinder materials and transforming them into something useful for your home or garden is rewarding. Plus, it's an excuse to get creative and do something different. 
You can transform old cinder blocks into: 
Planters 

A garden wall

The base of outdoor furniture 

An indoor entertainment center 

A patio bench

A bedside table

A bookcase

A fire pit 

Shoe storage units
Upcycling saves the planet from more unwanted landfill waste and thus decreases methane production. Finding ways to upcycle is as important as finding ways to recycle. So before you throw any cinder block away, utilize your imagination and see where it takes you. 
Donate To The Community 
If you've racked your brain and don't think there's a way to upcycle your functional cinder blocks, consider donating them. You might be surprised to learn that concrete blocks aren't cheap, and plenty of contractors or local businesses would be grateful to receive concrete for their projects. 
To start donating your blocks, you can utilize social media by placing an ad explaining how many blocks you have and what condition they're in. It's best to be honest about their condition to prevent unwanted expectations and consequent miscommunication. It would be just as annoying to you as it would be to a local business if you thought you'd gotten rid of the cinder blocks only to discover that you now need to find them a new home. 
Never underestimate the power of word-of-mouth, either. Tell family, friends, and neighbors about your spare cinder blocks. You never know who might know someone, who knows someone, who's in need. 
Another great way to donate is to call nonprofit and community organizations to determine if extra cinder blocks would be helpful. Whenever you're donating, always check the institution's list of needed items or contact them first to avoid offering things they don't need or want. That bit of planning will save everybody time and energy. 
Remember that while making money off your unwanted cinder blocks is possible, be tactful. If you're offering to donate, make sure you're donating and not selling. Providing free cinder blocks to a charity or neighbor to ask for money later is unfair. 
Why Is It Important To Properly Dispose of Cinder Blocks?
With cement production contributing 7% of artificial carbon dioxide emissions for the whole planet, it's safe to say that cement production harms the environment. While cement is often necessary, the required masses of energy and heat are causing CO2 emissions. On top of that, the United States Environmental Protection Agency estimates 85% of construction waste was concrete in 2018. 
Cinder blocks must be disposed of properly to ensure less environmental damage, such as blocks ending up in a landfill site. There's no shortage of people and companies who would appreciate cinder blocks as a donation. And the planet would thank you for recycling your cinder blocks, whether reusable or damaged.
At Nixxit Junk Removal, it matters to us that we properly dispose of your junk. So whether you're a contractor with leftover cinder blocks or just finished some DIY at home, we will donate or recycle your junk where possible.
Frequently Asked Questions
Can Cinder Blocks Be Recycled?
Yes, absolutely. If your cinder blocks are reusable (i.e., not damaged or broken), recycling centers can and will recycle your cinder blocks. 
Getting Rid of Cinder Blocks? Call Us!
No amount of junk is too big or too small for us. Whatever your project, we want to remove your leftover junk and dispose of your cinder blocks efficiently and effectively. That means sorting through and donating or recycling wherever we can.
Let us help you dispose of your cinder blocks today with our concrete removal service! 
Need Help with Construction Debris in the Bay Area, CA?
Nixxit Junk Removal can help with your construction removal needs in the Bay Area.
10+ Years of Commercial Junk Removal Experience
Locally Owned and Operated
We Do All The Work!
Donation and Recycling
Same Day Appointments Available!
Get Started