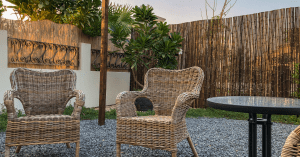 Patio furniture has to accomplish two seemingly opposing goals: look beautiful, and be indestructible. Because patio furniture is left outside, exposed year-round to the elements, it must withstand a beating. Some pieces aren't capable of this, which results in early degradation. 
Durability is critical. Therefore, it's often made from materials that are not easy to dispose of. If you need to remove your patio furniture, follow this simple guide. We will take you through everything you need to know, including how materials of the same type must be processed. Let's get into it.
Types of Patio Furniture Based on Materials
How you dispose of your old furniture will be based on the material it is made from. Certain materials are recyclable, and others aren't. Further, not all types of patio furniture can be recycled similarly. 
Make sure you mind the material your patio furniture was made from before you take steps to dispose of or recycle it. 
Plastic and Synthetic Furniture
Synthetic materials like plastic and aluminum make excellent patio furniture. These materials are hardy and barely degrade under even the most severe weather conditions. 
While it's true that they do show wear and tear more than a material like steel or wicker, you can feel safe plopping down into your favorite deck chair at any time without fear of it giving out. 
Additionally, synthetic patio chairs and loungers are lightweight, making them easy to install and remove later. But disposing of them, whether by recycling or the dump, isn't as easy.
Can Plastic Patio Furniture Be Recycled?
Whether synthetic patio furniture can be recycled depends on exactly what type it is. Plastic needs to be handled carefully because not all plastic can be recycled.
Plastic furniture is made using a variety of polymers, including resin, polyethylene, polycarbonate, and acrylics. Cured resin is not recyclable, and acrylics must be treated to be recycled. Polyethylene and polycarbonate, however, are fully recyclable. Chucking plastic furniture that includes materials like resin and acrylics only adds to the plastic recycling crisis that we're experiencing. 
A material like aluminum is, across the board, more easily recycled than plastics. But that's also somewhat complicated. Companies like Apple and Coca-Cola have announced they will use more aluminum in manufacturing their products because it's considered more environmentally friendly. And the numbers back that up: while over 70% of all aluminum ever manufactured is still in use today, less than 10% of all plastics have been successfully recycled.
Check with your local recycling center when looking to recycle aluminum or plastic patio furniture; they can tell you where to look on the pieces to find out if they're fully recyclable. 
Steel and Iron Furniture
Its durability is a significant advantage of steel, iron, and other metal patio furniture. Metal furniture can last a lifetime if it's treated right. And if you don't treat it right and leave it out in hurricane-force winds and rain and snow, it still lasts a long time. 
Metal furniture is also flame-resistant, which is a plus if you're barbecuing on the same patio where you're lounging. A downside, however, is how heavy it is. The weight of metal chairs and loungers makes them challenging to dispose of when looking for a change.
Can Metal Patio Furniture Be Recycled?
Fortunately, even though metal patio furniture isn't always easy to remove physically, it can be easily recycled. You can call your local scrap yard to see if they'll take metal furniture and if they have rules around what kinds.
Metal can also be recycled using scrap metal recyclers. 
Rattan and Wicker Furniture
Though wicker and rattan are referred to interchangeably, these terms mean two very different things. Wicker isn't material; it's a style of weaving. Rattan is the name of the material often used to weave together wicker furniture.
Rattan is a common material used to make outdoor chairs and loungers, and it's often woven together using the wicker method. Other materials used to create wicker furniture include reed, cane, seagrass, bamboo, and willow. But one significant advantage of rattan is that it's a naturally renewable material made from palm. 
Like wood, it's pliable when warmed up and resilient when dry. It's also porous so that it can be painted. However, if you live in an area prone to severe weather, you might want to avoid rattan. It can become weak and brittle when exposed to moisture.
Can Rattan Patio Furniture Be Recycled?
Rattan is entirely biodegradable. Rattan is a naturally renewable material made from palm, a reed-like substance that behaves similarly to wood. In countries like Vietnam and Laos, rattan is harvested, treated, and used as a building material for furniture and structures like houses and roofs. 
You must ensure it is pure rattan before sending your furniture to the recycling plant. If it is woven together with plastic or wood, those materials need to be separated and disposed of independently. 
Wooden Furniture
Wood patio furniture strikes a balance between all the previous materials listed. It's lighter than metal but not as soft as synthetic furniture. It behaves similarly to rattan but isn't as easy to paint and is less durable. However, wood furniture is a bit complicated when it comes to recycling. 
Can Wooden Patio Furniture Be Recycled?
Wooden patio furniture can be recycled, but not in every case. It cannot be recycled if painted or sealed to protect it from the elements – typical for patio furniture. 
With wood pieces, consider breaking them down and reusing them in DIY projects, giving them away, or allowing them to be broken down and reused as kindling.
5 Ways To Dispose of Old Patio Furniture
Recycling isn't the only way to dispose of old patio furniture. Though the goal is not to end up in a landfill, sometimes, junking it is the best way to go. But even professional junk removers can help your patio furniture live a productive second life in some form, so ask them. 
Donate It
The easiest thing you can do with your patio furniture is donate it to a charity thrift shop. Call your local thrift store and inquire whether they accept donations of this kind before taking it over. This is a viable option for patio furniture that is in excellent condition.
Sell It
You can also visit a third-party selling site and list your patio furniture if it's in good condition. Ensure you note what condition it's in, the dimensions, and how long you have had it.
Recycle It
Recycling is always a golden option, so follow the tips listed in the previous section for recycling!
Refurbish It
If you're crafty, you can break down your patio furniture for a DIY project or refurbish it yourself. All you need are essential construction tools and cans of paint and varnish. 
Hire a Furniture Removal Company
There's always the trusty option of hiring a furniture removal company. These days, these companies do far more than haul things to the landfill. Ask them about recycling and donation opportunities in your area and whether you can avoid adding unnecessary items to the junkyard. 
Frequently Asked Questions
What Can I Do With Old Patio Chairs?
It's easy to repair, repurpose, and refurbish old patio chairs. Determine the base material, learn how they can be deconstructed, and then look up DIY projects based on what you have. Using old patio furniture, you can make decorations, shelving, and fun things. 
Need to Throw Out Old Patio Furniture? Call Us!
Often, patio furniture must be removed so you can bring in the new. Call Nixxit Junk Removal for a quote on your removal needs and inquire about what can be done with your old patio furniture.
Need Help with Furniture Removal in the Bay Area, CA?
Nixxit Junk Removal can help with your furniture removal needs in the Bay Area.
Full-Service Furniture Removal and Sorting
We Do the Heavy Lifting and Loading
Locally Owned and Operated
Donation and Recycling
Same Day Appointments Available!
Get Started