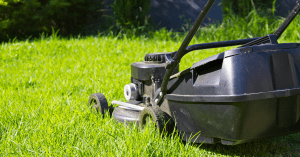 Your lawn mower has served you well over the years. Unfortunately, whether it's broken down, old, or you want an upgrade, it's time to get rid of it. 
Dumping your lawn mower on the curb or garbage isn't viable. It's hazardous due to its oil and fuel residues and illegal. 
Here, we share the best ways to dispose of your lawn mower properly and practices to avoid, so you can have peace of mind. 
What Can I Do With an Old Lawn Mower?
If you're tired of having your worn-down mower clutter your home, you're probably searching for solutions to get rid of it. But it's not as simple as putting it on the curb. That's why we've compiled several ways to help you safely dispose of it without harming the environment. 
Sell It
There are many ways to sell your mowers, such as garage and yard sales, online marketplaces, local classifieds, and community groups. Additionally, some shops provide instant cash, such as used equipment dealerships and pawnshops. 
We'll break down each place to sell them and tell you why it's worth considering: 
Pawnshops: Many people don't want to go through the hassle of creating a listing, taking pictures, or finding buyers. If this is you, the pawnshop is a convenient choice. You don't have to wait weeks or months to find a buyer. Instead, you drop your motor off, and the appraiser immediately gives you a cash offer. 

Used equipment dealers: Their websites will tell you the equipment types they're interested in and what they're willing to pay. You can research used equipment dealers to find one near you. 

Yard sales: They're a fun way to get rid of many unwanted items all at once. You can make some extra cash while socializing with people from your neighborhood. 

Online marketplaces: These platforms allow you to receive buyers locally or globally. All you have to do is create a listing with high-quality pictures and a detailed description. Many platforms like eBay, Craigslist, Facebook Marketplace, and OfferUp widen the pool of buyers who will see your listing. 

Buy/Sell/Trade community groups: Local forums, message boards, and even Facebook groups exist to sell or trade away your lawn mower. If you live in a big city, it's common to find many interested buyers who'd want your equipment. 
When selling, it's crucial to assess the value of your lawn mower. You don't want to accept lowball offers. You'll want to take quality pictures in natural lighting and provide photos from all angles of the mower. Finally, factor in the shipping or preferred pickup/drop-off methods. 
Donate It
Some donation centers, charities, and nonprofits will accept used lawnmowers. Donation is a relatively hassle-free option, but be sure to call the organization to ensure they will accept your specific brand or model. Not all donation centers will accept lawn equipment or appliances. 
Additionally, you want to consider local groups that would need a lawn mower. Any business with a lawn probably has use for a mower. Consider nearby schools, homeless shelters, or churches. Many would be happy to accept additional equipment to keep their facilities clean. 
Can You Recycle Your Old Lawn Mower?
Recycling a lawn mower is a good solution if it's no longer working or in poor condition. In that case, you can still salvage the materials to be recycled into other machinery. 
If you want to recycle, you'll need to call the local recycling facilities to ask about drop-off options or your city provider to ask if they offer pick-up. Many places will charge either a flat fee or a cost per pound to recycle this type of machinery.  
You'll need to drain the fluids inside and safely dispose of them. Fluids such as used oil are hazardous and can harm others and the environment, so you'll need to determine ways to recycle the drained fluids. Then remove its non-metal components to recycle the scrap metal and bring them to recycling facilities.
What Is the Best Way to Scrap a Lawn Mower?
Selling individual lawn mower parts to a scrap metal dealer is another option if the previous methods are not viable. Lawnmowers may contain valuable metals such as aluminum and steel. 
The payment amount depends on the current market prices, which fluctuate daily. Disassembling the lawn mower and selling the parts individually yields higher profits than selling the entire machine to a junkyard. 
If you lack the knowledge or time to disassemble the mower, consider selling it to a local small engine mechanic.
We'll cover what you need and the steps to scrap your lawn mower. 
Here are the items you'll need: 
Large hammer 

Socket set or socket wrench 

Jaw Puller 

Bolt Cutters 

Sawzall 

Allen Wrenches 
Follow these steps to break down your lawn mower into recyclable parts. 
Dispose of gas and oils: Pour the fluids like gas and oil into a safe container. 

Take off the handle: Fold the handle, then unlatch the pin to remove it. Stationary pins require hitting the head with a hammer until it falls apart.

Remove the engine and non-metal parts: Take apart all the non-metal parts like rubber plugs, wires, cables, plastics, etc. You can dispose of these parts and give the remaining components to the metal scrap dealer. You can unbolt the engine as well. 
Hire a Junk Removal Company
Hiring a professional junk removal service is a convenient and hassle-free way to dispose of your mower ethically. You won't need to worry about figuring out how to dismantle it or spend hours trying to sell your mower. 
At Nixxit, our junk removal services aim to recycle or donate at least 80% of the materials and parts. We work with many local charities, thrift shops, and other community organizations to ensure hazardous materials don't harm the local environment. 
Practices to Avoid When Disposing of a Lawn Mower  
When you're ready to dispose of your lawn mower, taking shortcuts to get rid of it as fast as possible can be tempting. Unfortunately, this could be harmful to the environment or, in some cases, illegal. We'll cover common mistakes to avoid when disposing of your mower. 
Misleading Buyers 
Never mislead buyers when selling your lawn mower, especially for online marketplaces. When buyers purchase your mower under false pretenses, they will likely report it to the appropriate third party. For example, online marketplaces may ban your account, which ultimately sullies your reputation. 
Illegal Dumping 
According to the California Penal Code 374.3, illegal dumping means you may have to pay up to $10,000 in fines and serve up to six months of jail time. Incorrect disposal can be harmful since lawnmowers contain hazardous metals and toxic substances that can contaminate the soil, waterways, and air. 
It's bad for the environment and illegal, so it's best to follow the methods above when disposing of it. 
Tossing Full of Gas and Oil 
Always drain the oils and gases in the mower before disposing of them. Oils are prone to contaminating water and soil when not properly disposed of, while gas is highly flammable. If disposed of improperly, leaks and spills are hazardous and can harm the environment. 
Have a Lawn Mower You Need to Dispose Of? Call Us!
Disposing of your lawn mower by yourself can be a tricky situation. You'll have to know where to go to sell, recycle or dispose of it. Additionally, you may need to dismantle it yourself if recycling. 
If you want to get rid of your old lawn mower but don't have the tools or time to haul it yourself, hire a professional junk removal service to take it for you.
At Nixxit, we're a locally-owned eco-friendly company that helps you remove all unwanted items and recycle or donate them where possible. Simply book an appointment and choose a time that's most convenient for you. We're proud to serve the entire San Francisco Bay area. Book online today to schedule your in-home or curbside pickup!
Need Help with Junk Removal?
Nixxit Junk Removal can help with your junk removal needs in the Bay Area, CA. 
Full-Service Junk Removal and Sorting
We Do the Heavy Lifting and Loading
Locally Owned and Operated
Donation and Recycling
Same Day Appointments Available!
Get Started