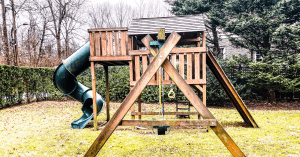 Playgrounds are a great way to get kids active and outdoors. Slides, forts, and swing sets are all great places for kids – and their imaginations – to run wild. But what happens when the kids grow up?
Many people eventually find themselves with old playground equipment that sits unused in their yard, collecting rust. Whether the frames are wood or metal, they show wear and tear over time and can become quite the eyesore.
Here, we discuss ways to repurpose or remove old playground equipment and help you reclaim your space.
Repurposing an Old Swing Set
Swing sets are a great way to keep the kids outside and busy. But what happens to the swings once the kids have outgrown them?
Most frames are made of metal or wood and show signs of aging after sitting out in the elements for several years. If you're in the mood for a little DIY, here are some ways to repurpose an old swing set.
Turn It Into a Trellis to Support Vining Plants: Thick plant growth is great for hiding rusty or discolored spots. You can even put a bench or small table underneath it to make the most of the space!
Upcycle It: You can upcycleyour old swing set by resurfacing the frame and hanging cute boho swings. Wrap the frame with fairy lights for added ambiance.
Create a Chicken Coop: Do this by enclosing the frame with wire. Add a door, and cover half of the frame to shelter your birds.
Create a Dog House: If chickens aren't your thing, turn the frame into a dog house. Enclose all sides, cut a hole for a door, and add all the cute details your pup deserves.
Create a Mini Greenhouse: Turn the frame into a mini greenhouse by covering all sides with plastic sheeting. Plant your favorite plants, sit back, and watch them grow!
Make a Hanging Plant Holder: If your green thumb is still growing, turn the frame into a hanging plant holder. Simply hang your favorite planted pots from the top of the frame. For added visual interest, try hanging the pots at different heights.
Dissembling an Old Swing Set
If the swingset is beyond saving or you've decided against repurposing it, it's time to get rid of it. The easiest way to remove it is to take the swing apart and remove the pieces.
Before you start, ensure you wear the right clothes for the job. Old metal frames often have rusted and jagged parts that could cause tetanus if you get cut. Even wooden frames have metal components like screws and joints that may be rusted.
To be safe, wear pants, close-toed shoes, long sleeves, and work gloves when taking the swing apart and handling the pieces.
Start the disassembly by removing the swings – the seat and the ropes. If the swings were attached with chains, look along the top of the frame for where they're anchored and remove them. Next, unscrew any attachments to the frame – such as slides – and take those apart.
Once everything is removed, all that should be left is the frame.
The legs of most frames are anchored in the ground to prevent the swingset from tipping over while kids are using it. Locate and remove the anchors – they often look like large pins sticking into the ground. You can often pry them up using the back of a claw hammer.
With the anchors removed, moving and manipulating the frame will be easier. Unfasten the legs and connectors; you may need to turn the frame onto its side to reach the connections along the top. Pro tip: use WD40 to lubricate screws that have rusted in place.
How to Get Rid of a Swing Set
Once everything is taken apart, you can load and haul the components.
Another pro tip: separate the components by material as you take the swingset apart. Keep all metal in one pile and any plastic components in another. Doing so will make things much easier when you get to the landfill.
If you can't haul the swing to a dump or landfill, see if your local trash collection service offers large item disposal. This service is more common in towns and cities. You can also check online forums like Facebook Marketplace; someone may be interested in using the metal as scrap and may haul it away for you.
Using a Junk Removal Service
The easiest way to get rid of old junk is to hire a junk removal service like Nixxit. We will come to your home and remove these types of items for you and dispose of them in the most eco-conscious manner possible.
Hiring a junk removal service saves you from all the heavy lifting and hassle of making a trip to the dump. Many services will also take care of your disassembly, so you don't have to waste an entire weekend wrestling with old junk.
Frequently Asked Questions
What Can I Do With an Old Outdoor Playset?
It might be hard to imagine at first, but with the right tools, a vision, and a little DIY knowledge, you can bring new life to your old outdoor playset. Popular ideas include greenhouses, sitting areas, and even chicken coops. Check online idea boards if you need some inspiration.
What Can I Do With an Old Wooden Playset?
There are lots of things you can do with your old wooden playset once the kids have outgrown it. Start by sanding and re-staining the wood to give it a clean appearance. Then, you can upcycle it into a hammock frame, a sitting area, a trellis, or even a small garden.
Need Help Removing Junk in the Bay Area? Contact Us.
What do you do with the old swing set once the kids have outgrown it? Consider giving it a second life by repurposing it into a dog house, trellis, or small greenhouse. If you want it gone, start by breaking it down and sorting the parts, being careful to avoid sharp, rusty edges.
You can take the components to a recycling center or landfill if you have a big enough vehicle – if not, you could rent a truck. The easiest way to get rid of it is to let the junk removal experts at Nixxit take care of it for you. We'll take care of the removal and disposal so you can get back to enjoying your yard and the new open space it will offer.
Need Help with Junk Removal in the Bay Area, CA?
Nixxit Junk Removal can help with your junk removal needs in the Bay Area.
Full-Service Junk Removal and Sorting
We Do the Heavy Lifting and Loading
Locally Owned and Operated
Donation and Recycling
Same Day Appointments Available!
Get Started