Ready to upgrade your microwave? Virtually every home in America contains one of the small appliances, but few homeowners know how to dispose of their old microwaves properly. Should you try to fix it, or is it better off in your local landfill? Is it even possible to recycle a microwave? 
Read on for the ultimate guide to disposing of your microwave, courtesy of our experts at Nixxit, the Bay Area's most trusted full-service junk removal company. For more information on our appliance recycling and removal services, please get in touch with our team today. 
How Do You Dispose of a Microwave?
Whether you're cleaning out your apartment before moving into a new home or upgrading your kitchen appliances, it's not easy to dispose of your old electronics.
Most major cities have laws and regulations that apply to home appliance disposal. Dumping your old microwave into the garbage doesn't solve the problem, either. Instead, it adds another electronic appliance to a growing landfill–and may catch the attention of local authorities, resulting in a hefty fine. 
In this guide, we've compiled the six best ways to dispose of your old microwave in a safe, environmentally friendly manner. That said, we recommend checking with local authorities for any special instructions regarding appliance disposal in your city. 
E-Waste Recycling
When it comes to appliance disposal in the Bay Area, CA, electric waste recycling is the safest and most eco-friendly way to dump your old microwave. 
E-waste facilities hire teams of trained professionals to carefully dismantle your old microwave and sort out recyclable materials for further use. The recycling center may repair your microwave to sell or place working parts on the market for technicians to purchase. In some cases, they may even donate repaired microwaves to charities. 
A quick Google search will help you locate an e-waste recycling center near you. If you can't find a conveniently located e-waste center, contact your regular trash disposal company. Often, local sanitation or recycling centers have e-waste drop-offs that they don't publicize. Alternatively, your disposal company may have special cleanup events for homeowners to dispose of e-waste. 
Certified Appliance Recycling
As mentioned above, most local and state governments have specific regulations that govern how, where, and when you can dispose of appliances like microwaves, refrigerators, and other types of e-waste. If you live in California, state law requires you to take your microwave to a certified appliance recycler specializing in hazardous materials and e-waste or an appliance retailer who contracts with a certified recycler. 
Junk Removal Services
Did you know that microwaves and other similar appliances take thousands of years to decompose? Not only that, but they also contain recyclable parts that can be reused – and dangerous materials that could harm people, animals, or the planet. 
Rather than taking your microwave to a landfill, contact our team at Nixxit. We'll examine your microwave to determine if we can recycle it, repurpose it, or donate it. Most importantly, we'll keep your old microwave out of a landfill. To schedule a pickup, check to make sure you live within our service areas, then give our team a call or book online. 
Recycling or Take-Back Programs
Many appliance stores offer recycling or take-back programs for small appliances and other types of e-waste. Depending on its policy, the store may provide you with store credit, a gift card, or other incentives. Others require you to buy a new microwave before they will recycle your old one. 
Manufacturer Recycling Programs
Major appliance manufacturers like LG, Bosch, and GE have spearheaded recycling programs for their appliances. For example, LG provides a free mail-back microwave recycling program. Other manufacturers have specific drop-off locations for microwave disposal. For more information, visit your appliance manufacturer's website. 
Microwave Donations
If your microwave still works and needs no repairs, is clean, and is a newer model (usually less than 5 years old), skip the disposal program and consider donating it to a non-profit organization, church, school, or thrift store instead. In doing so, you'll clear space for your new microwave while helping someone in need, which sounds like a win-win to us. 
Why You Should Never Dismantle a Microwave
Some homeowners believe that they need to dismantle their microwave before disposal, but think again. Taking apart your microwave is an unnecessary step that could pose a serious threat to your health. 
Your microwave contains a transformer that produces nearly 4,200 volts of electricity. It also contains a high-voltage capacitor, which can discharge a deadly shock even if you've left it unplugged for months. 
Further, your microwave came fitted with a magnetron that produces the waves that give the appliance its name. The magnetron and its components aren't dangerous in and of themselves. However, you can only access the magnetron by removing a ceramic insulator containing beryllium oxide, a toxic carcinogen connected to certain types of cancer and other health problems. 
Can You Fix a Broken Microwave?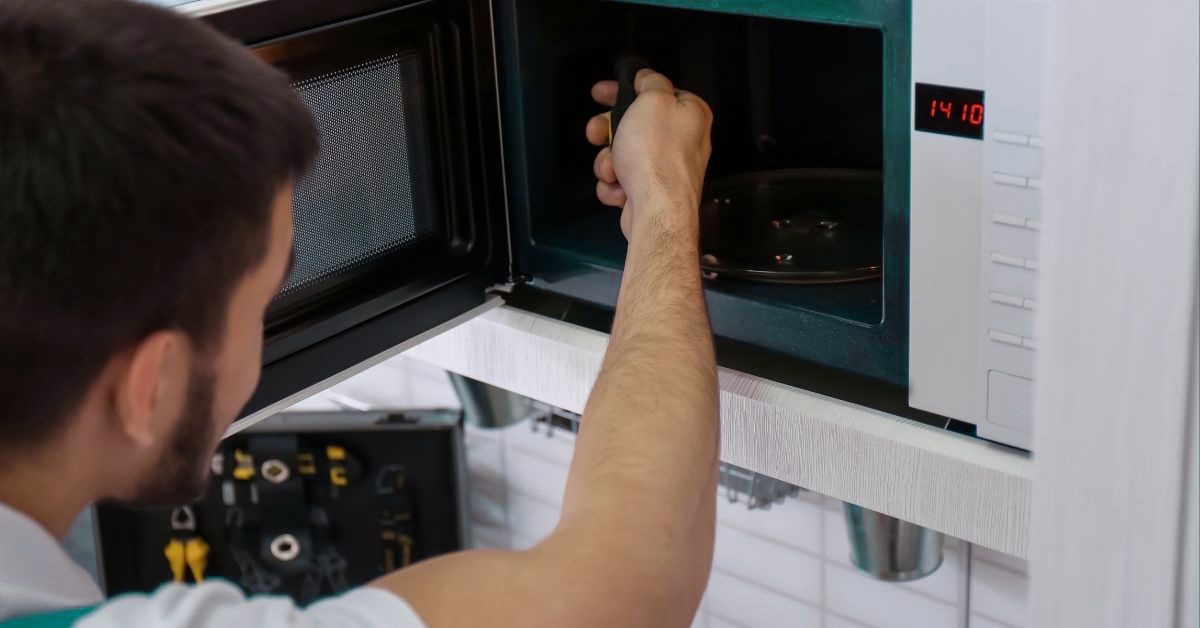 If you've got a broken microwave, you may feel tempted to fix it rather than invest in a new appliance. While we applaud your thriftiness, you should never try to fix a microwave on your own. 
Microwaves are one of the most dangerous home appliances due to the high-voltage capacitor located within each unit. You have to disassemble each unit before repairing it as well, which places you in danger of receiving a deadly shock while trying to discharge the capacitor. 
Rather than trying to fix your microwave on your own, we recommend taking it to a professional with plenty of experience. 
The Best Microwave Disposal Solution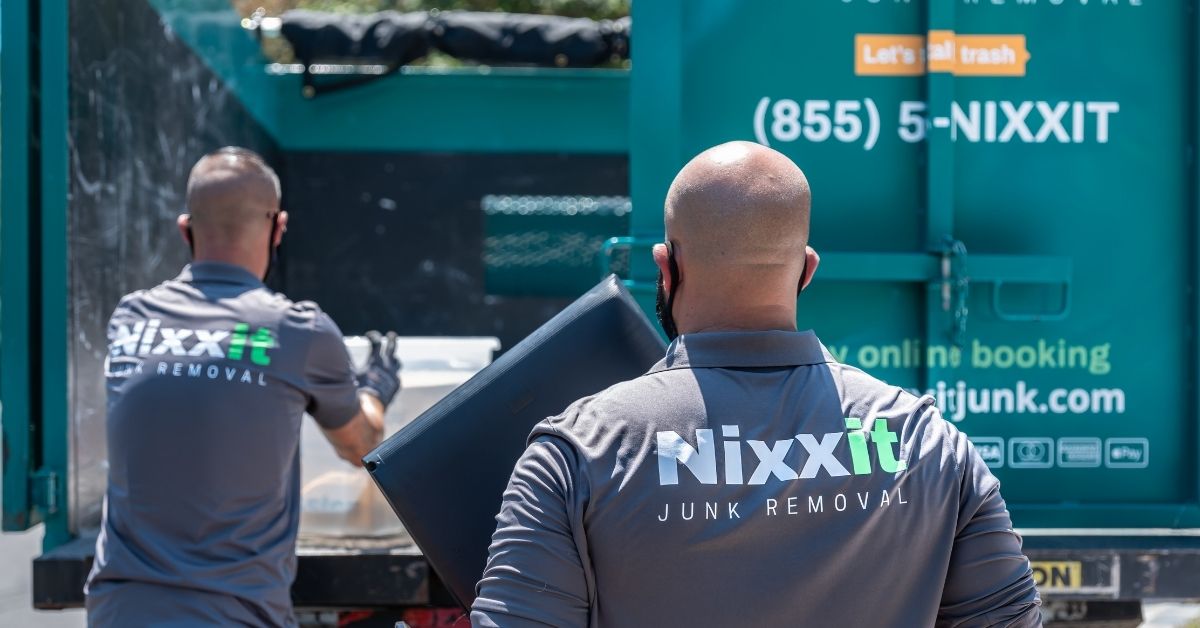 At Nixxit, we make microwave and appliance disposal in the Bay Area easy on you and the planet. Instead of dumping your microwave in a landfill or locating a nearby e-waste recycling center, give our disposal pros at Nixxit a call. 
We'll work with you to determine a convenient pickup time, then carefully assess your microwave to determine if we can donate it. If not, we'll remove the reusable pieces and recycle the rest, giving your microwave a second life and keeping it out of a landfill. 
For more information on our eco-friendly appliance removal services or to schedule a pickup in the Bay Area, give our Nixxit team a call today.
Need Help with Appliance Disposal in the Bay Area, CA?
Nixxit Junk Removal can help with your appliance disposal needs in the Bay Area.
We Do the Heavy Lifting and Loading
Locally Owned and Operated
Full-Service Removal and Sorting
Donation and Recycling
Get Started