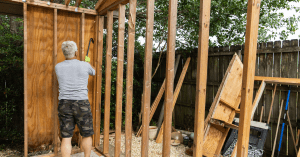 One of the most incredible things about owning your home is the freedom it gives you to make changes wherever you see fit. And that's not just limited to the wallpaper! If you've been staring at your garage for some time and have decided it's time to go, you're in the right place.
We've put together this guide especially for you so you can get your teeth stuck into your new project and do it right! 
Garage Demolition Steps
1. Acquire the Necessary Permits
Getting started on your garage demolition starts a good few weeks (at least) before you begin with the hands-on stuff. That's because before you do anything with your equipment, you need to get the necessary permits to knock down your garage in the first place.
While this might seem like an annoyance, permits are there to ensure the safety of yourself and anyone else helping you. And trust us, the consequences of not getting a permit are far more annoying!
You can expect to pay between $150 and $250 for a single level garage demolition permit. This may vary by location. Head down to your local building department or town hall; they'll help you with everything you need.
2. Disconnect Utilities
Once you've got the permit, you are free to go, go, go! Just one more thing, though… make sure to switch off the utilities first. It might sound like common sense, but you'd be surprised how easy it is to miss this step accidentally. We've all been there. Accidents are easily done, but they can prove costly, so pull out every stop to prevent them.
Gas, water, and electricity are the main ones, and it's good practice to get a professional in for each to ensure everything has been disconnected safely. Most of the time, this service will be free, so there's no reason not to.
3. Remove the Roof and Trim
Now you're ready to get your hands dirty! The best place to start is with the roof. Make sure to lay down some sheets to catch any falling debris, and then get started. A good tip is to use a garden fork or something similar to pry off the ridge cap. Then you can remove each single easily one by one.
As this is the first step of the demolition, it's best to start how you mean to go on and pile the debris from the roof neatly in a dumpster. It will make your life much easier down the line.
4. Tear Down the Siding, Drywall, Doors, and Windows
As you proceed with this next step, consider if any materials still have some life left. If so, keep them to one side for future use – don't add to the vast amount of waste the USA produces each year unnecessarily.
Anyway, first you'll want to remove the garage siding. Then tackle the drywall (note this material actually cannot be recycled, so place it in the trash pile) before removing the door (with the help of a friend). Finally, carefully remove any windows making sure to wear gloves and goggles.
5. Dismantle the Framing
Keeping the friend that helped you with the garage doors, now is the time to remove the framing. You'll want to start by using a pry bar and hammer, and then you can begin removing the large and heavy roof trusses. These are often built-in, so it can be a little tricky. Make sure to de-nail as you go.
6. Sort Out Your Construction Debris Removal
Congratulations! You've successfully demolished your garage. Now, there's only one more thing on the list to get sorted before you can sit back and admire your handiwork… debris removal. 
By now, you've probably got quite a sizable chunk of debris on your hands, and while you can try and get rid of it yourself, there's a way better option available to you.
Hiring a company specializing in debris removal will take on all the work and round off your demolition project perfectly!
Frequently Asked Questions
Is It Easy To Knock Down a Garage?
Knocking down a garage takes time, effort, and money, but if you follow our guide above, then you should be able to tackle this project head-on! A few aspects of the task will require a friend by your side, but the majority can be done yourself.
Do I Need Planning Permission To Knock Down My Garage and Rebuild It?
Different areas have different rules, but generally, you will need planning permission. This is to ensure it is done safely and responsibly. A permit can usually be attained relatively quickly, so contact your local council for further details. If you've never applied for a permit before, this might feel a little daunting, but it's probably far more simple than you think. 
Need Help Disposing of Construction Debris? Call Us!
Demolishing your garage is a big project, but if you follow our simple guide, you'll easily tackle it! The only issue you might run into is what to do with all the debris you'll now have on your property.
That's where Nixxit Junk comes in. Our construction debris removal service will take all the hassle off your hands, leaving your garage and you debris-free! We recycle and donate where we can and haul any and all debris you have. Get in touch now!
Need Help with Construction Debris in the Bay Area, CA?
Nixxit Junk Removal can help with your construction removal needs in the Bay Area.
10+ Years of Commercial Junk Removal Experience
Locally Owned and Operated
We Do All The Work!
Donation and Recycling
Same Day Appointments Available!
Get Started