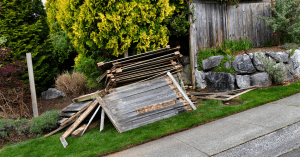 Whether you're simply looking to make a change or your old fence has become rotten, knowing how to remove your fence (and how to prepare) is crucial before you begin!
Follow the tips and steps below to ensure a smooth removal process!
Pre-Removal Tips
Check the home's property lines – You must ensure that any fence you wish to take down is a part of your property and not belonging to a next-door neighbor. If the wall has always been there, it can be easy to forget that it could belong to someone else, so always double-check!
Contact the local power and utility companies – Removing an old fence might seem simple, but it could interfere with currently-hidden water, power, or phone lines. So, before you begin, always call the necessary companies to confirm.
Determine if your fence boards are treated wood or not. Treated wood is typically categorized as hazardous waste and may have different disposal requirements in the state of California. Treated wood waste must be taken to a Class A Certified Treated Wood Waste Facility.
Get a dumpster or other container – You don't want to take down your wooden wall only to realize you've got nowhere to put the old or rotting materials. Before you start, get a dumpster to store the materials. Check with the company to make sure they allow treated wood beforehand.
Assess the costs – From hiring tools to a dumpster, along with the cost of your time, removing and replacing a fence can be an unwanted expenditure. Consider if hiring a professional fence removal company is the quicker, more cost, and time-efficient option for you. A professional fence removal company will typically take care of all the labor, hauling, and proper disposal of your fence boards.
What Tools Do I Need To Take Down a Fence?
Hammer
Screwdriver
Pry Bar
Reciprocating or Hand Saw
Step Ladder
Shovel
Gloves
Goggles
Then depending on your choice of removal method, you may need the following:
Spare 2x4s
Spare cinder blocks
Chain with grab hook
Car jack
How To Remove an Old Wood Fence
Remove Gates – If it has a gate, use your screwdriver to unscrew the hinges from the gate's post. You can then lift the gate and carry it to your dumpster. Then unscrew the leftover hardware attached to the fence post.
Remove the Panels – If you don't want to keep the panels intact, carefully cut the panels off with a reciprocating or hand saw. Cut the boards into manageable sizes and dispose of them in the dumpster as needed.
Remove the Posts (Cemented) – While the bulk of the project is over, you must remove the fence posts, usually cemented into the ground. This can be done with a car jack, creating a lever with a pair of 2x4s and cinder block, or digging around the post and pushing it to loosen it.
Remove the Posts (Non-Cemented) – Grab the posts and wiggle them until you gain enough movement to push them an inch in each direction. Then you should be able to pull the fence post straight out of the ground.
How To Remove an Old Chain Link Fence
Remove Clamps – Remove the fence from the corner posts; several metal clamps hold the tension bar in place (the long flat piece supporting the chain link fabric). You'll likely need a wrench or screwdriver to remove the nuts and bolts. Once you've removed the fascinators, pull the clamps off the fence post. The fence chain fabric will loosen but won't fall – yet.
Lay Sections Down/Roll Up – Every 20 feet, remove the chain link fencing, ensuring you lay it down on the ground or roll it up as you go.
Cut Fence Ties – Cut the fence ties (the heavy gauge metal wires that hold each section of the fence to the posts). With a plier, bend the fence relationship to free them from the post, then use your pliers to cut through the chain fence at either end of the section you're working on.
Remove Top Rail/Post Caps – Once the chain link material is rolled up, remove the top rail (the horizontal metal bar) by sliding it out. However, if it's welded, you must remove the post's top with the reciprocating saw (fitted with a metal cutting blade).
Remove Fence Posts – Use a jack or pole puller (appropriate if your posts are in concrete) or use water (should the post only be in a small amount of concrete or no concrete at all). Then, ensure you remove the fence posts.
Break Up Concrete – Once you've removed the posts, break up the concrete with a jackhammer to remove large areas of unwanted concrete.
What Can I Do With My Old Fence?
Upcycle It
Much like the environmental problems posed by fast fashion, fast furniture also has a negative environmental impact by contributing to landfill sites. Consider upcycling your old fence by reusing the gate or panels to create:
Raised garden beds
Small side tables
Benches
Flower boxes
Birdhouses
Offer It to Others
A family member, neighbor, or friend might have the perfect upcycling idea and would be grateful for your fence. If you're considering offering it to others or selling it, make sure you factor that into the removal process – you don't want to cut the wall into tiny pieces if that won't suit its new home.
Recycle/Dispose of It
Recycling is crucial as it conserves natural resources and energy. Luckily, most recycling centers will take your old fence materials as long as the boards are not treated but always call ahead to double-check – it will save everyone time. However, to protect yourself precious time and energy, consider hiring professionals to remove your fence and ensure that any materials can be donated or recycled, so consider Nixxit Junk Removal today.
Nixxt can also help safely dispose of treated wood waste such as pressure treated wood, fence boards, and more.
Frequently Asked Questions
Is It Hard To Remove an Old Fence?
Removing a wooden or chain link fence is undoubtedly challenging regarding manual labor, time, and costs. If you're removing it yourself, you need to allow yourself several days – maybe more, depending on the size. Consider hiring the expert hands of professionals.
Getting Rid of an Old Fence? Get in Touch!
Don't let the challenge of fence removal put you off the job! While these tips will point you in the right direction, why not take the more accessible, stress-free route and hire Nixxit Junk Removal? Book online today or give us a call.
Need Help with Junk Removal in the Bay Area, CA?
Nixxit Junk Removal can help with your junk removal needs in the Bay Area.
Full-Service Junk Removal and Sorting
We Do the Heavy Lifting and Loading
Locally Owned and Operated
Donation and Recycling
Same Day Appointments Available!
Get Started