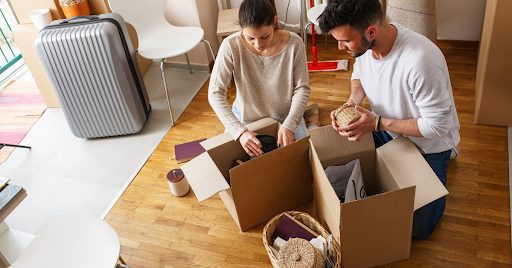 It's easy to underestimate the effort certain tasks require. Moving is a perfect example.
With so much of our household stuff tucked away in cupboards and closets, we forget how much stuff we own! Out of sight, out of mind. But realizing the true magnitude can be overwhelming, especially when you're gearing up to move to a new home.
So what do you do with all the knick-knacks, unused kitchen equipment, and corner tables collecting dust? Here are a few pointers to keep in mind during a move if you have too much stuff.
Start Early
The first step to prevent the panic from setting in is to give yourself plenty of time. If you start early, you can also start small.
You can pick one room in your home to begin and give yourself a deadline to be finished sorting through and packing up that room. This way, you can take an hour or so every day to pack instead of dedicating all your time to it. Celebrate the small successes along the way!
Starting early can also help you get better deals on your preferred moving services. Saving where you can is essential when you have much stuff to move.
Plus, studies have shown that rushing through tasks increases the likelihood of mistakes and can increase stress levels. Better to pace yourself and make it to the finish line still standing.
Pack Strategically
Are you trying to save space even though you have a lot of stuff? Luckily, there are many solutions you can consider that can minimize the footprint of more oversized items while also keeping you organized.
One no-brainer solution is using vacuum bags for clothing, bedding, and pillows. By sucking the air out, you'll save a ton of space! Using these bags also keeps items safe from damage during the move.
Alternatively, you can use blankets, towels, and rugs as insulation to protect breakable items. Using items you have on hand prevents the need for packing supplies like bubble wrap that end up in a landfill.
Remember to label boxes as you go along. The first items you'll need at your new place should be the last ones loaded.
Use a Moving Container
If you opt for a moving container, you'll be able to load your items gradually on your own time. When you rent a truck, there's typically a limited time to load and unload everything. That can be a daunting task if you have a lot of stuff.
When you rent a moving container instead, you'll have the flexibility of loading it over a few days or longer! It can reduce a move's stress and give you more control over the process.
Invest in a Storage Unit
Are you moving homes but staying local? Consider renting a storage unit. You can slowly move some of your items into storage ahead of the big day. That way, you'll have less to haul when the day arrives.
After the big move, you can gradually unload things from your storage unit as needed and bring them to your new home.
If an item sits in your storage unit for months and months after you move, assess if it's something you need. If not, it may be time to lessen your load!
Ditch What You Don't Need
Every year, the level of waste produced in the US has increased dramatically over the past few decades. As the environmental crisis becomes more pressing, we must be intentional about what we throw away and minimize what ends up in our trash bin.
That said, you don't need to take your unwanted items with you during a move to keep them out of the landfill. Today, there are many routes you can choose to re-purpose, donate, or recycle unwanted household items.
Stacks of newspapers sitting around? Recycle them! Unwanted tables, rugs, or kitchenware? Donate these items or try your hand at selling them to lessen the financial burden of the move.
Conclusion
Around 13% of the American population moves each year. If you're part of the club, you know that prepping for a big move is no joke. The more stuff you have, the taller the hurdle. But if you give yourself plenty of time and are strategic about how you pack and what you keep, you'll be on your way.
And if you still have unwanted items that you need to get rid of, call a junk removal service. At Nixxit, we haul it all away and take care of the rest of the junk you don't need! Our team does everything to give your old household items a new lease on life with sustainable junk disposal. Happy moving!
Need Help with Junk Removal in the Bay Area, CA?
Nixxit Junk Removal can help with your junk removal needs in the Bay Area.
Full-Service Junk Removal and Sorting
We Do the Heavy Lifting and Loading
Locally Owned and Operated
Donation and Recycling
Same Day Appointments Available!
Get Started