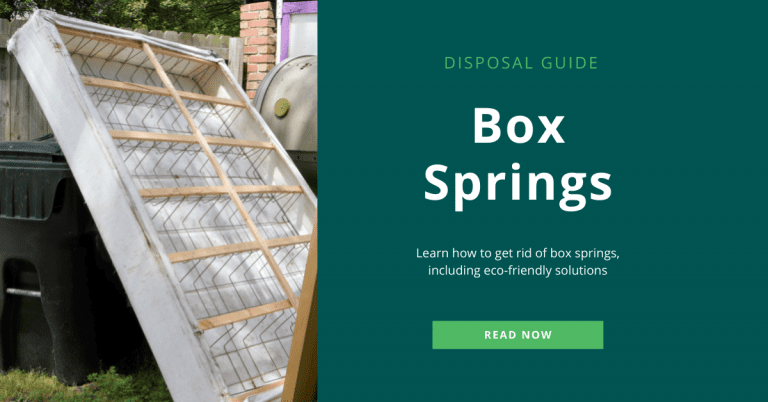 If the box spring on your mattress has reached its end, you're probably wondering what to do next. You know you need a new one, but how do you dispose of the old one properly?
Box springs can present a real challenge when it's time to dispose of them. They're bulky, heavy, and of minimal use once they've outlived their task of offering support to your mattress.
Unfortunately, it's not as simple as throwing it in the dumpster, especially if you don't want to impact the environment.
If you're wondering how to get rid of box springs the right way, look no further. You have multiple options for proper disposal, including some cost-saving and eco-friendly solutions.
3 Methods to Dispose of Old Box Springs
You've replaced your box spring, and the old one has been sitting in your garage for a few weeks now. Out of sight, out of mind doesn't apply to box springs because of how big they are. Free up some space by properly disposing of it.
Here are three ways how.
1. Call Your City Waste Service Provider
You may be able to put your box spring on the curb. While your local waste management won't pick it up during regular trash collection, the provider may eventually get to it.
Give them a call to see if they'll take it. Most cities have a period where they'll collect bulky, more oversized items. Reach out to learn if they offer this service and when the next pick-up time is.
If they have a collection period for larger items, make sure the box spring is sitting outside on the first day of the pick-up period. The last thing you want is to set it out on the curb too late and it not get picked up.
2. Hire a Service
Some companies dedicate their services to removing unwanted items from homes, including old box springs.
Junk removal companies like Nixxit will pick up old box springs and dispose of them in an eco-friendly manner, all for a small fee. With a junk removal service, you won't have to worry about dragging the box spring out to the curb or transporting it yourself.
Hiring a service means you won't have to lift a finger, and you'll have peace of mind that it's being disposed of properly.
3. Take It to the Landfill Yourself
This method is probably a no-go, but it is an option, so we wanted to share it with you.
You can dispose of the box spring yourself by taking it to your nearest landfill. However, there are a couple of downsides to this that you should know. For one, loading it into your vehicle is a hassle.
Also, keep in mind that some landfills typically have a disposal fee. Box springs take up a lot of space in them, and landfill machinery won't be able to compress the steel springs inside of it fully. It will require the workers to break it down.
The extra labor involved makes it an unattractive item for landfill workers, so be sure you call ahead of time. It will save you the disappointment of arriving only to learn they won't take your box spring.
The Environmental Consequences of Dumping Box Springs
Did you know that box springs contain harmful compounds like flame retardant chemicals? It's best to keep these chemicals out of landfills as they'll eventually make their way into the environment. If possible, environmentally friendly solutions can be beneficial for all involved.
Recycling Your Old Box Spring
Do some research on any nearby recycling services that will take your box spring. Your local department of health is a great place to start.
Check with them for any programs where you can safely drop it off so that it won't go to a landfill and harm the environment. Instead, the components inside will be reused for different things.
For instance, steel can be melted and utilized to make new parts. Or, the wood can be chipped and used in animal bedding. Some organizations will even accept box springs as donations because they can repurpose the materials found within – more on this next.
Repurposing the Materials Found in Box Springs
Would you consider yourself to be a crafty person? Do you like using products to their fullest extent? Consider repurposing the materials found in box springs.
For example, you can take it apart and sell the steel to a scrap metal company. Remember that you won't get too much money for the scrap steel found in box springs. If you have any other scrap metal laying around, it may be worth your time doing.
Then, you can use the wood to create some new furniture like a small table or wooden crate. Others like using the leftover wood for decorative purposes, like creating unique wall art.
Note: Breaking down your box spring is not a quick or easy process. You must use the right tools and protective gear to avoid hurting yourself in the process.
How to Break Down a Box Spring
If you decide to break down the box spring to recycle, reuse, or dispose of the materials, begin by gathering the right materials. You'll need:
Cut-resistant gloves
Protective eyewear
Utility knife
Pliers
Screwdriver
Saw
Directions:
Put on your cut-resistant gloves and protective eyewear.
Begin by removing the lining of the box spring by using the utility knife. Tear away at the dust cover and any fabric, exposing the wooden frame. Remove any staples using a screwdriver or pliers to make this process easier.
Very carefully remove all the boards from the metal springs. Watch out for sharp edges. Understand that this is a time-consuming process, and you shouldn't rush it.
Break down the wood into smaller pieces using your saw. The size will vary depending on what you plan to use the wood for in your repurposing.
Frequently Asked Questions
Can a Box Spring Be Cut Down?
Yes, you can cut down a box spring. However, this is time-consuming and requires patience, protective gear, and the right tools.
What's the Easiest Way to Get Rid of an Old Box Spring?
The easiest and quickest way to get rid of an old box spring is to hire a junk removal professional. They'll charge you a small fee and get the old box spring off your hands quickly and efficiently. You don't have to drag it outside or break it down. They'll pick it up from any room in your house, whether that's the bedroom, attic, or garage.
Should I Pay Someone to Pick It Up For Me?
Hiring someone to pick up the box spring and dispose of it properly takes a lot of work off your hands. Just keep in mind they will charge a fee for this service; therefore, if you have other things you need to go, make the most of the cost by getting rid of everything at the same time.
Hire a Service to Carry Your Old Box Spring Away
Is it time to ditch your old box spring? Whether you no longer need it or it's too run down, you have a few options to dispose of it properly. You can call your city waste department, take it to the landfill yourself, recycle it, repurpose it, or hire a service to get it off your hands.
The quickest and easiest is the latter since you won't have to worry about breaking it down or waiting for your local waste department to pick it up.
At Nixxit Junk Removal, we guarantee eco-friendly removal and disposal of your box spring. Get in touch with us for a free, no-obligation quote.
Need Help with Furniture Removal in the Bay Area, CA?
Nixxit Junk Removal can help with your furniture removal needs in the Bay Area.
Full-Service Furniture Removal and Sorting
We Do the Heavy Lifting and Loading
Locally Owned and Operated
Donation and Recycling
Same Day Appointments Available!
Get Started