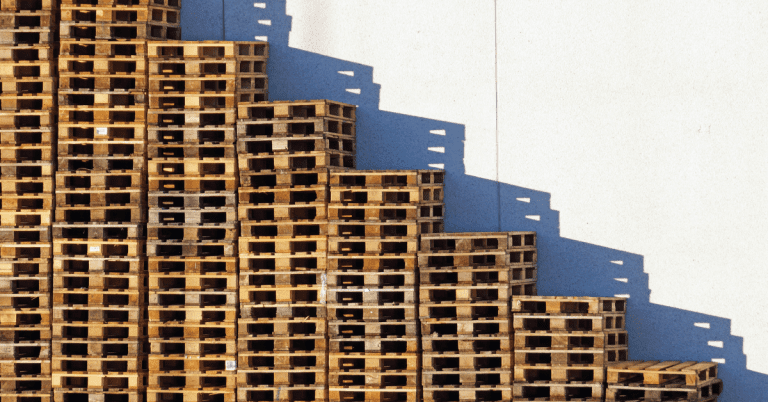 Wooden pallets serve many valuable purposes—but when they've outlasted their initial use, they end up accumulating as unwanted junk. It can be a problem for warehouses, businesses, and even homeowners.
Rather than leaving the clutter, consider these five easy ways to dispose of your pallets and start your cleanout today.
5 Ways To Dispose of Pallets
While the most uncomplicated disposal option might seem like throwing your pallets away, you usually can't just put them out on the curb in most places. In some locations, sidewalk dumping of bulky items is illegal. Pallets consist of treated wood, which means they are technically hazardous waste. You can't put them out on the curb.
Instead, here are other ways to dispose of your load.
1. Give Them Away
If your warehouse is getting more and more full, a free giveaway is a rapid solution. You might be surprised how many other businesses, friends, or family would be more than happy to receive a free pallet.
Do you have a friend or colleague getting married soon? Wooden pallets have seen a recent resurgence at weddings, where creative minds refurbish them into signs with a lick of paint and talented calligraphy. Some artisan cafes are also fans of this chic look, so never discount the idea that there will be an appreciative recipient.
However, direct word of mouth will only get you so far, especially if you are a smaller business. Consider putting an advertisement out on your social media platforms or local forums so as many people as possible can have the opportunity to get them off your hands.
You'll be reducing waste and helping the environment by offering them as free giveaways. What's to lose?
2. Sell Them
With how desirable your wooden slats are, why not make some money in the process? Selling the pallets, or upcycling them and then selling them onto new homes, is a great way to recycle.
Many people love crafts and are always looking for new projects. If the pallets are clean, undamaged, and unweathered, many hobbyists will relish getting their hands on them and pay to do so.
If you're having people come to your business or warehouse, keep their safety in mind. Not everyone is experienced in warehouse environments, so be mindful.
Alternatively, list the wood on social media or selling sites and have them ready in a safer location for collection. That way, everyone's mind is at ease.
Upcycling is also a great way to increase the quality of your pallets and make money in the process. While hobbyists might take your wood as it is, requiring little effort for you, consider sprucing up your pallets with a bit of varnish or paint so that they're ready to use by other businesses like wedding venues or cafes. You'll find you can increase your price too.
Upcycling is great for the environment and your purse, so it's a win-win.
3. Turn Them Into Mulch
Turning your pallets into mulch is another option that is better for the environment than the junk ending up as waste. However, turning wooden pallets into mulch is labor-intensive, and if you don't have the know-how or machinery, it could also be costly.
But how does it work?
Start by taking the pallets apart. You must remove any material or substance that isn't wood. So no metal nails or tape.
These pieces then go into a wood chipper until fine. If your company needs mulch, you can feed the chippings straight into the company. Alternatively, the business can sell the mulch.
Other methods will be much easier if you don't have a wood chipper or the time for this process.
 4. Donate to a Recycling Facility
If you don't have the time to arrange free giveaways, upcycle, or turn the pallets to mulch yourself, then donating your used pallets to a recycling facility is a great solution.
For recyclers to repair pallets to sell to other businesses, the pallets must be in good working order. If they aren't fixable, they'll turn the boards into mulch. Pallet recyclers may pay you a fee, depending on the condition of the pallets, but this isn't a guarantee. If you're looking for payment, clarify that before the recyclers arrive.
5. Send to a Waste Processing Facility
Sending pallets to a waste processing facility is an option, but it's a last resort, and the more environmentally-friendly ways should be a priority.
In 2018, the United States produced over 146 million tons of municipal solid waste. That's a colossal amount in just one year. When there are so many other great options, the increase in waste and the damaging environmental impact doesn't have to be the case.
With just a little planning, you can recycle your pallets and avoid adding to an ever-growing waste problem.
If you go this route, you'll need to speak with the waste processing facility. The regular centers won't take pallets, so you'll need to find one that does.
Need to Get Rid of Junk? We Can Help.
Call Nixxit to remove your unwanted pallets today! Our pallet removal service ensures your pallets end up in the right place. Whether you need a warehouse cleanout or in-home pickup, we're here to offer sustainable disposal.
Need Help with Junk Removal in the Bay Area, CA?
Nixxit Junk Removal can help with your junk removal needs in the Bay Area.
Full-Service Junk Removal and Sorting
We Do the Heavy Lifting and Loading
Locally Owned and Operated
Donation and Recycling
Same Day Appointments Available!
Get Started