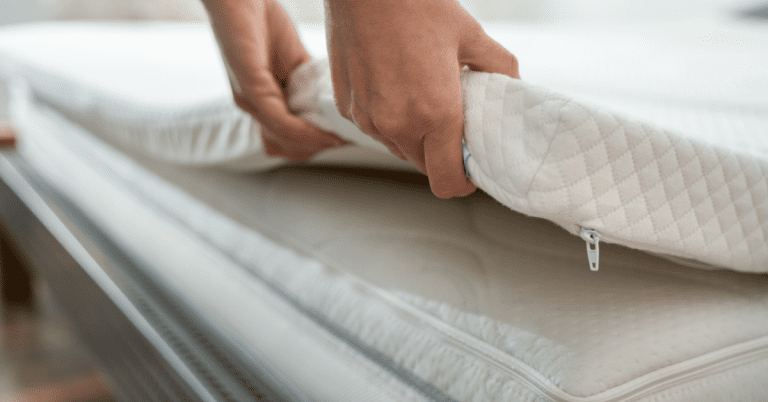 Very few things can rejuvenate your body like a good night's sleep, and nothing does a better job at providing a sound sleep than memory foam toppers.
But what happens when you're looking to upgrade your foam mattress topper?
You can't merely throw it in the trash as it's illegal and harmful to the environment. Keep reading to learn how you can dispose of your mattress topper responsibly.
Recycling Your Foam Mattress Topper
Mattress toppers are often made of latex and memory foam, which can take up to a thousand years to decompose. Leaving it in the trash or curbside can earn you a fine for illegal dumping and will only add to our ever-growing landfill problem.
With nearly 20 million mattresses that go to landfills every year, we can only imagine what that number is for toppers. Recycling also helps stimulate the local economy by creating demand for new jobs within the recycling industry.
The easiest way to recycle your foam mattress pad is through a recycling center since the foam materials are recyclable, which helps to minimize your carbon footprint. You can search various databases like CalRecycle, Earth911, or even municipal offices to find the nearest recycling center that accepts mattress pads.
Another option is to contact your mattress topper manufacturer to see if they offer any resources to help with recycling. Some manufacturers will take their mattress pads through a company buy-back program.
Repurposing Your Foam Mattress Topper
Instead of dumping your mattress pad, why not repurpose them? The internet and social media are filled with fun DIY ideas to experiment with. If you're creative and handy, here are a few ideas to get you started:
Pet beds: Cut your topper to a size that fits your furry friend. You can even sew together fabric to provide a casing over it, creating a comfortable bed for your pet to enjoy.
Accent pillows for couch cushions: Mattress pads can easily turn into pillows. Simply stuff the mattress foam into a fabric cover. They can work better than normal accent pillows since memory foam alleviates discomfort better than other materials.
Bean bag chair stuffing alternative: Everybody loves a soft plush beanbag, especially after a long work day. Re-stuff your old bean bag with tiny foam pieces from your topper, giving it new life and enhanced comfort.
Lumbar support pillow: Back pain is a chronic health issue for many workers in today's digital landscape. You can create a comfy lumbar support pillow by rolling the topper into a cylinder shape and cutting the ends to the desired length. Then stuff it into a pillowcase to serve as your new lumbar support while sitting at your desk.
Research Pinterest and other social media platforms to find creative ideas for repurposing your topper.
Donating Your Foam Mattress Topper
Donating your mattress topper can be an excellent opportunity to help people in need while making space for your new luxurious pad.
However, it's crucial to remember that not all mattress toppers are fit to be donated. Since California has many regulatory and sanitation issues, charities and shelters like Goodwill don't accept them.
Rather than looking for larger organizations with strict donation policies, consider giving it away to a friend or family member. Or, you can post on social media accounts or even on classified sites like Craigslist to find suitors.
Localized platforms like Freecycle, OfferUp, Facebook Marketplace, Buy Nothing, and NextDoor are great places to advertise your mattress topper. Make sure to specify it's free, and be clear about its size and condition.
Avoid donating your mattress topper if there are any infestations, rips or tears, structural problems with the foam, stains, or odors. Consider whether you'd want to receive the topper as a donation. If it's not in good condition, it's better to dispose of it differently.
Getting Rid Of Your Foam Mattress Topper
Getting rid of your foam mattress topper by yourself can be a hassle. Finding a recycling center or donating it to someone else requires time and effort.
The best way to get the mattress pad off your hands is through a mattress removal company like Nixxit Junk. Especially when you're moving or looking to get rid of other junk around the house, removing all your items at once will save you time and money.
The pros at Nixxit will do all the heavy lifting for you. Schedule your pickup time and location; our experts will haul it for you.
Frequently Asked Questions
If you're still wondering how to dispose of your mattress topper, we've compiled a short FAQ section to help.
Can I Put Mattress Topper in the Recycle Bin?
No, mattress toppers shouldn't be placed into the recycle bin. Tossing your topper harms the environment and takes up to 1000 years to decompose. Instead, take it to a recycling center that can break it into smaller pieces and reuse them for other products.
How Is Memory Foam Disposed Of?
Memory foam can recycle like most materials. While it can't break down to its original plastic polymer, it can be shredded and reused to create new foam products like car seat padding. You can dispose of it in a few ways, such as recycling, donating, or repurposing.
Getting Rid of an Old Mattress Topper? Get in Touch!
Whether you're looking to upgrade to a luxurious pad or your old mattress pad no longer provides the springy support you need, it's time to let it go. Disposing of it properly avoids hefty fines and ensures that you play your part in making our planet a better place to live.
When deciding which mattress removal service to choose, look into what they stand for. Nixxit Junk is committed to sustainability and will ensure that all toppers and other items are responsibly donated and recycled where possible. Schedule your pickup online and enjoy the peace of mind of knowing that you've got a less-cluttered space.
Need Help with Furniture Removal in the Bay Area, CA?
Nixxit Junk Removal can help with your furniture removal needs in the Bay Area.
Full-Service Furniture Removal and Sorting
We Do the Heavy Lifting and Loading
Locally Owned and Operated
Donation and Recycling
Same Day Appointments Available!
Get Started