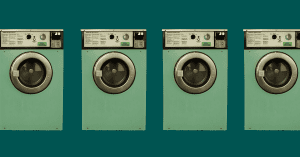 When your old washer or dryer no longer leaves your clothes feeling fresh and clean, it's time to upgrade.
But how can you dispose of your old appliances?
From recycling it to a local scrap yard or donating it to a charity, the right choice depends on your willingness to haul the item yourself, the condition of your appliance, and your local regulations.
Keep reading to discover your options.
5 Ways To Dispose of an Old Washer and Dryer
When a washer and dryer reach the end of their lifespan, it's important to consider how to responsibly dispose of them. Several options are available, including donating to a charitable organization, selling to a scrap yard for the value of its metal, or recycling through an e-waste recycling center.
It's imperative to pick an option that aligns with your priorities and values, such as being eco-friendly or supporting those in need.
Regardless of choice, proper disposal of a washer and dryer will help protect the environment and ensure the safety of those handling the appliance.
E-Waste Recycling Centers
You can easily dispose of valuable items by contacting an electronic waste recycling center. Washing machines and dryers contain scrap metals and other components beyond just the metal.
Like us, some professional junk removal companies work with local e-waste recyclers to properly recycle these components, including a specialized process for breaking down electronic parts into metal and plastic components.
Local Scrap Yard
Selling your old washer and dryer to a scrapyard can be an option if they no longer work or are beyond repair. The scrapyard will pay you for the valuable metals and materials that can be salvaged and recycled from the appliances. This way, you can earn some money while also being environmentally conscious by ensuring that the materials are recycled properly.
Municipal Waste Center
Municipal waste centers are facilities run by the local government where reusable waste is unloaded and sorted to separate hazardous materials from recyclables.
The waste is usually collected through a curbside collection service, and the center will sort, treat, and dispose of the waste in an environmentally responsible manner, often through incineration or recycling.
These centers also offer a drop-off location for residents to dispose of larger items, such as old appliances, including washers and dryers.
Hire a Junk Removal Company
Hiring an appliance removal company like Nixxit is the most convenient and easiest way to get rid of your old appliances, especially large items like your old washing machine and dryer.
You can easily schedule a pickup where their team will come to your home or curbside to pick up the appliance and clean up after any mess made.
Eco-friendly initiatives are important for the environment, which is why so many people opt to work with us. At Nixxit, we have experienced haulers that know how to evaluate what to dispose of and do our best to recycle or donate all the components that can be reused. We've built up a list of organizations that accept donations for people in need, local non-profits, schools, and donation centers.
Manufacturers' Recycling Programs
Disposing of your washer and dryer through a manufacturer's recycling program can be convenient and eco-friendly. The first step is to check if the manufacturer offers such a program through their website or by contacting them directly.
Several manufacturers, such as LG, Bosch, and Whirlpool, have established their own recycling programs to achieve a more sustainable, net-zero impact.
They may advertise these services in their marketing and on their websites and offer a free collection if you purchase a new, energy-efficient model from them.
If they do offer a recycling program, follow their instructions for preparation and shipment. Some manufacturers may offer pickup services, while others require you to bring the item to a designated recycling center. Remove any personal items or hazardous materials from the washer and dryer before disposal.
Donate to a Charity
Donating your used washer and dryer can help those in need and extend the life of the appliances. If it's still in good working condition, reach out to various national non-profit organizations for donation opportunities. Your donation can make a difference for those with limited resources. Keep in mind, many Bay Area non-profits don't accept appliances, but there is one.
Here is the best place to donate your old appliances:
Habitat for Humanity ReStores: Habitat for Humanity ReStores may accept household items. For large bulky appliances, they typically only accept appliances that are five years old or less. The proceeds from the sale of these donations go towards funding construction projects globally. You'll have to organize a way to drop off your appliances yourself.
How To Know if Your Washer and Dryer Is Broken
Dryer doesn't start: A dryer that fails to start is a clear indicator of damage or malfunction. One common cause of this issue is a damaged door sensor. When damaged, the sensor misinterprets the door as being open and prevents the dryer from starting, even if the door is securely closed.
Water leaks: Inspect the area underneath your appliances regularly for even the smallest of leaks. If left undetected, the water may evaporate before forming a noticeable puddle. However, this could lead to a substantial water leak and the need to replace your old appliance.
Unusual grinding or squeaking noises: Squeaking or grinding noises in your dryer indicate a problem with the motor bearings. If left unchecked, these sounds can escalate into more serious problems and potentially cause irreparable damage to the dryer.
Washer doesn't turn: Does your washer turn on, start, and operate quietly? If the drum of your washer isn't rotating, it's a clear indication that there is an issue with the machine. Over time, the belt that helps turn the drum can wear down and cause it to stop rotating.
Doesn't dry properly: If you frequently have to restart your dryer to fully dry your clothes, it may be a sign that it is no longer functioning properly. This inconvenience could be due to an issue with the heating element or sensors. While it may be repairable by a professional, often, it is more cost-effective to replace the dryer instead of fixing it.
Burning smell: If your clothes are coming out dry, but they're uncomfortably hot, and there's a burning odor, it's a sign that your dryer is not functioning properly. The causes of the burning smell could range from a faulty thermostat, clogged lint, motor problems, or a worn-out belt.
Frequently Asked Questions
Now that you know the different ways to get rid of your old washer and dryer, you still may have some unanswered questions.
Can You Recycle a Washer and Dryer?
Yes, these appliances are made of valuable materials like copper, steel, and aluminum, which can be reused. Furthermore, many components inside the appliances, such as compressors and motors, can be recycled. You can contact a scrap metal dealer or a qualified appliance recycler to recycle your washer and dryer.
Where Can You Donate Your Old Washer and Dryer?
You can donate your old washing machine and dryer to organizations such as local charities, thrift stores, religious groups, homeless shelters, and community centers. It's important to check with the organization in advance to see if they'll accept your donation based on its condition and delivery arrangements.
Can You Leave Your Old Washer and Dryer at the Curb?
Disposing of your old washer and dryer by leaving them on the curb for trash pickup may seem easy, but it's illegal. According to local laws, appliances must be recycled through a qualified recycler or scrap metal dealer, even if you plan to purchase new ones.
Need To Get Rid of Your Old Washer and Dryer? Call Nixxit!
Getting rid of old appliances like your washer and dryer is a daunting task. They're hard to pick up and move. Even if you wanted to recycle or donate them, it would be another burden and nuisance you'd have to handle.
That's where a professional appliance removal company like Nixxit comes in. Our no-hassle washer and dryer removal services are the quickest way to eliminate your old clunky appliance. We're a locally owned business with years of experience offering eco-friendly removal services to residents and businesses in the Bay Area.
Schedule a pickup online, and our team of certified California Green specialists will haul and dispose of it for you.
Need Help with Appliance Disposal in the Bay Area, CA?
Nixxit Junk Removal can help with your appliance disposal needs in the Bay Area.
We Do the Heavy Lifting and Loading
Locally Owned and Operated
Full-Service Removal and Sorting
Donation and Recycling
Get Started