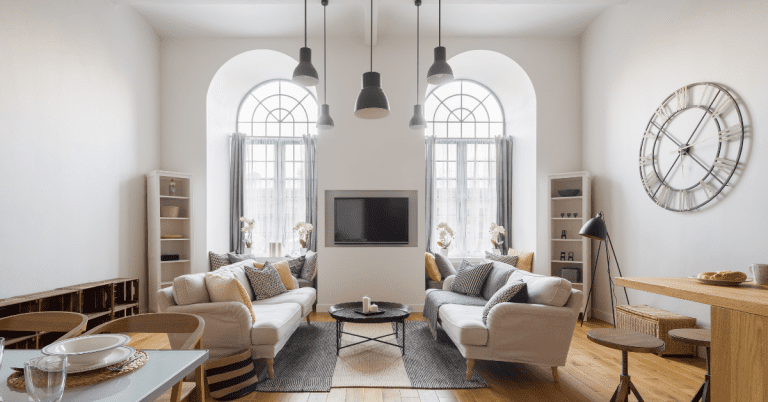 Selling a home comes with numerous considerations—from its valuation to the property's overall appearance. One debate that is still very much ongoing is whether it's best to sell a home furnished or unfurnished and the pros and cons that come with both. Is it better to present an empty house that can look full of potential but also risks appearing cold and unexciting? Or is it wiser to put on the market a fully furnished home that sparks the imagination of potential buyers? What happens if the staging is too niche or unattractive? Here, we weigh the pros and cons of selling furnished and unfurnished homes. Consider the various factors involved so that you can get the highest offer for your home for sale.
What to Know About Selling Furnished Homes
In an ideal world, potential buyers walk through the front door and immediately fall in love with not just a house but a dream home. The best way to make a quick sale, at the asking price or even above, is to present would-be buyers with a home they couldn't possibly afford to let pass. It's often far easier to do this by presenting them with a home that looks like they could move in tomorrow. However, this is also a method that comes with several hurdles.
Pros of Selling Furnished Homes
When it comes to purchasing a house, buyers want to be able to visualize themselves living there as soon as they set foot inside. They want to imagine being curled up on the sofa in front of the roaring fire or cooking a lavish weekend breakfast with children and grandchildren in attendance. By presenting potential buyers with a furnished house, you are filling in many of the imagination gaps while hopefully offering them a warm, inviting view of what their life could be. A furnished home also helps with visualization by giving viewers a sense of dimensions and how everything fits together. It's also a good idea if the home isn't exactly pristine, as a furnished house can help mask those slight imperfections that show up when it's empty. And last, but perhaps most importantly for some, furnished homes typically
sell faster
than unfurnished ones, and they often attract slightly higher prices.
Cons of Selling Furnished Homes
However, it's not quite as straightforward as you might think. The most obvious danger of showing a fully furnished house is that you run the risk of presenting would-be buyers with something that is an immediate turn-off. As we all know, decoration, furniture, and design, in general, are most definitely subjective, and just because you consider the house decor to be pleasing, it doesn't mean everybody will agree. A poorly furnished home isn't necessarily a death sentence. Still, it requires significantly more work on the buyer's imagination and may lead to an offer below the asking price. The cost is the last downside to staging a home but perhaps the most front-of-mind for sellers. You'll have to invest in furniture specifically for staging or rent some. If you have set your mind on selling a staged home, it's always best to get an independent opinion. Ask designers, real estate agents, or even friends and family about how the house looks and the impression it makes on people when they walk through the door. Here are
ten tips
to help you decorate your home before selling if you need some inspiration.
What To Know About Selling Unfurnished Homes
Selling an utterly unfurnished home might sound like a much easier proposition than having to worry about its appearance, but it also comes with several factors you need to consider. There is a very fine line between an empty house full of potential and one that comes across as cold, bare, and, worst of all, unenticing.
Pros of Selling Unfurnished Homes
While a furnished home can often present a ready-made image of how a house looks and feels, an unfurnished property has the potential to be an exciting blank canvas for potential buyers. It does require much more imagination from those viewing it, but it also negates the risk of presenting a furnished home that might put off some. An unfurnished home also doesn't diminish the buyer's pool in quite the same way that a specifically very furnished home might. It's not acting as a distraction with decor that isn't to everybody's taste. If you are selling an unfurnished home, the smell is one factor to bear in mind. Often, empty houses, especially if they've been vacant for some time, can smell damp or even stale. It's worth opening the windows now and again, while a quick spray of an air freshener or even flowers or plants in each room will also go a long way.
Cons of Selling Unfurnished Homes
Walking into an empty house can be a cold experience. Blank walls and bare rooms don't exactly cry out, "
Come and live here!"
' An unfurnished house certainly requires more on the buyer's part to envisage what could be. Having furniture in a home also goes a long way to masking imperfections that build up over time, and an empty house can sometimes look a little forlorn. It's therefore absolutely vital that the property has a fresh lick of paint and a thorough clean before going on the market.
What Is Better—Selling Furnished or Unfurnished Homes?
Most will agree that selling a furnished home is preferable to an unfurnished one—but only if you stage it right. It's likely to sell quicker and at a higher price. However, the staging also requires you to buy new, neutral furniture or rent furniture specifically for viewings. If the staging costs are too much, selling a home unfurnished is the better choice. But in doing so, you want to make sure it is sparkling clean and junk-free.
Conclusion
A well-decorated home that is just neutral enough can lead to a higher offer and a quicker sale, but it does require more investment to get to that stage. It's usually a case of spending a little more and seeing the benefits further down the road. Whatever you decide, there's always plenty that needs clearing out.
Nixxit Junk Removal
is here for all your haulage needs across the Bay Area. You focus on the house, and
we'll focus on the junk
.
Need Help with Junk Removal in the Bay Area, CA?
Nixxit Junk Removal can help with your junk removal needs in the Bay Area.
Full-Service Junk Removal and Sorting
We Do the Heavy Lifting and Loading
Locally Owned and Operated
Donation and Recycling
Same Day Appointments Available!
Get Started