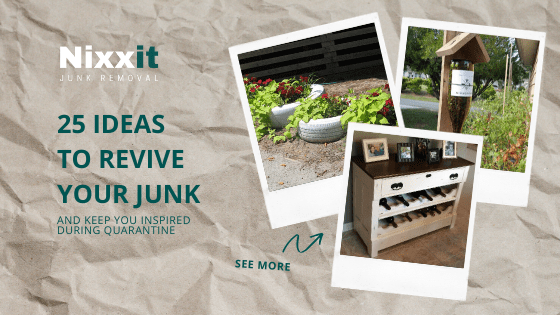 If it's one thing that we can all agree on, it's that we all have a lot more time on our hands right now.
With new Bay Area Shelter in Place restrictions extended, we must all do our part to stay indoors. Which means, finding new ways to keep ourselves busy.
While practicing social distancing, DIY projects can do just that. They can also help you and your kids use your hands, reduce stress, and explore your creativity in a way you may not always have had time to!
Plus, why not save some money by creatively repurposing items you may already have at home?
Breathing new life into your old junk is not only economical from a cost perspective, it also has the following benefits:
Conserves the environment by reducing the amount of waste dumped into the landfill.

Conserves limited resources by eliminating the need to use fresh raw materials to manufacture new products.

Helps teach basic home repair skills.
At Nixxit, we value our environment and believe in a sustainable future. Although we are junk removal professionals, we strongly believe that not everything needs to be junked. If this seems contradictory, we promise you it's not!
In fact, we 're committed to working towards meeting a landfill diversion rate of 80%.
Being in the junk industry, we are in a unique position to provide resources and inspiration to those who may not realize there are ways to reuse or repurpose old unwanted items like tires, box springs, dressers, and more.
Here are some creative ways to repurpose old items that you may have considered dumping before.
Trash-To-Treasure Projects To Keep Yourself Busy While In Isolation
Here are some DIY home upcycling projects ranging from small to large that will hopefully inspire you to transform your old junk. The possibilities are endless.
1. Old Books into Bookshelves
If you have some old books laying around, turn them into functional but still aesthetically pleasing shelves. This will make a statement piece in any room.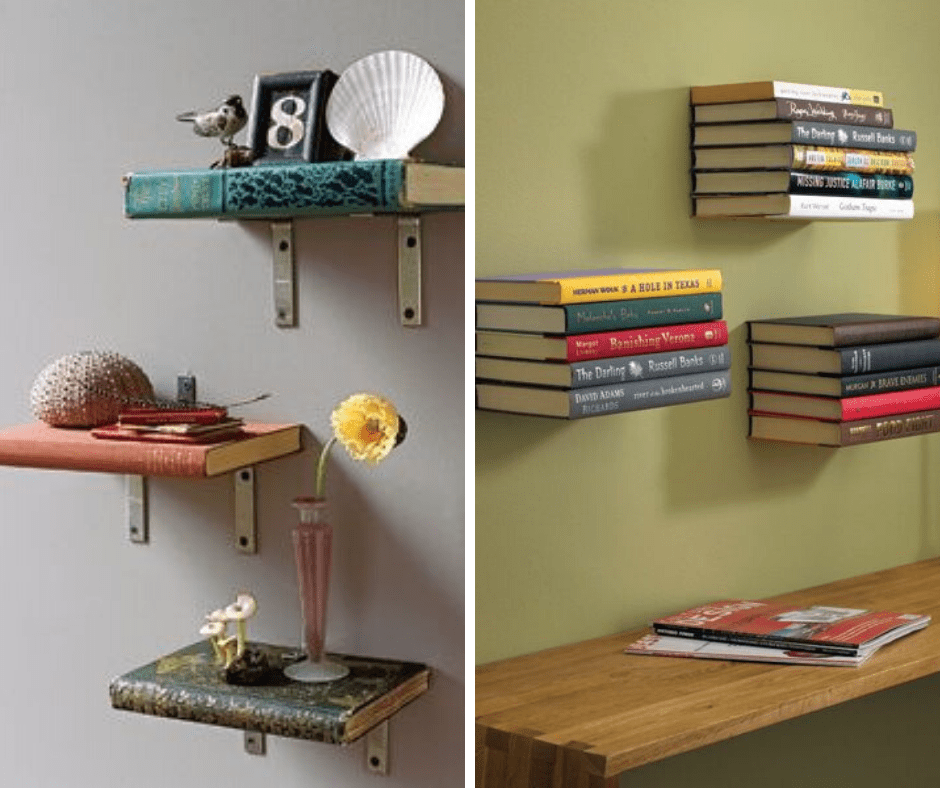 (Image Credit: Real Simple)
2. Turn an Old Ladder into Shelves
If your ladder is on its last leg, turn it into a rustic shelf. Get creative by either sanding it down and painting it a bright bold color, or keep it shabby chic with a little patina.
(Image Credit: Etsy)
3. Turn an Old Dresser into a Modern Hutch
If you are in need of a little extra storage space, upcycle an old dresser into a modern hutch. A little sanding, some chalk paint, and a new set of knobs will work miraculous wonders.
(Image Credit: Project Hamad)
4. Turn an Old Dresser Into A Planter
Don't toss that old dresser, turn it into a backyard planter. Whether its an herb garden or a colorful array of succulents, your dresser can make an awesome addition to your garden. Tip – Almost anything can be repurposed as a planter, think old boots, wagons, and more!
(Image Credit: HomeTalk)
5. Turn Old Tires Into A Planters
Remember when we said you can turn almost anything into a planter? Think outside the box (think circles). Tires are one of the 20 most common items that we pick up. If you think these old rubber objects no longer have a use, think again! Tires make great planters and can be painted to fit almost anyone's cup of tea (see what we did there).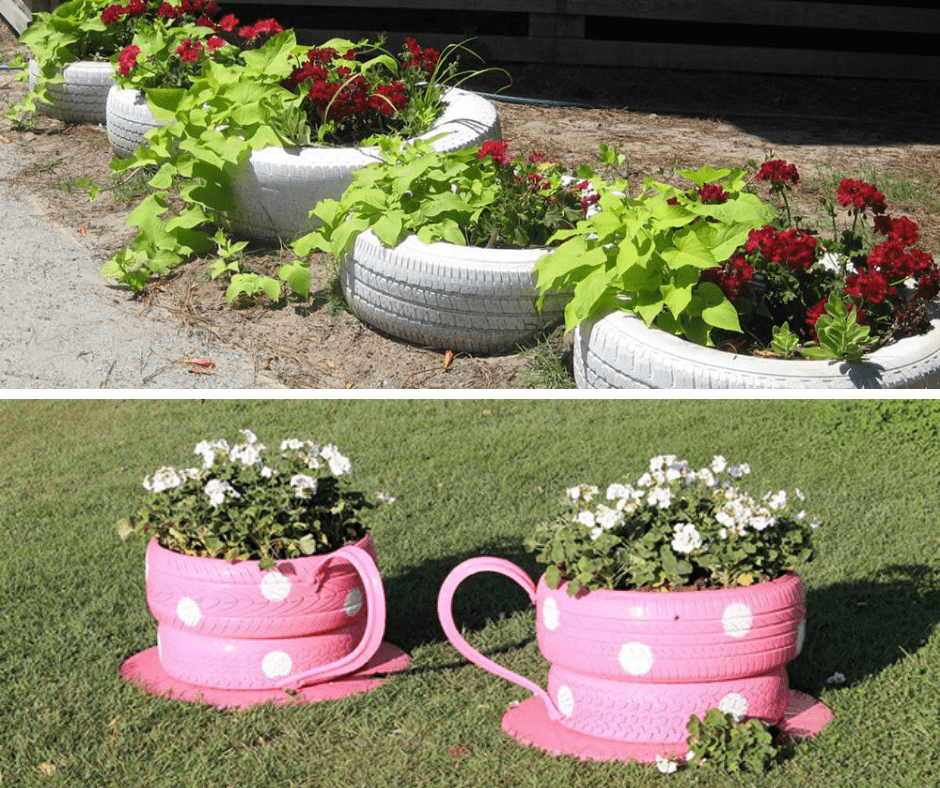 (Image Credit: Back Yard Boss)
6. Turn An Old Crate Into A Nightstand
This is an easy DIY project for anyone who needs a new nightstand. Paint and assemble a wooden crate or two for your very own customized bed side table.
(Image Credit: Amazing Interior Design)
7. DIY Side Table Using A Wire Basket
Wire baskets have so many uses. They not old make great storage spaces for extra pillows and blankets, they can also be flipped upside down and turned into the perfect side table. Just give it 1 to 2 coats of your favorite spray paint and customize it with a top of your choice!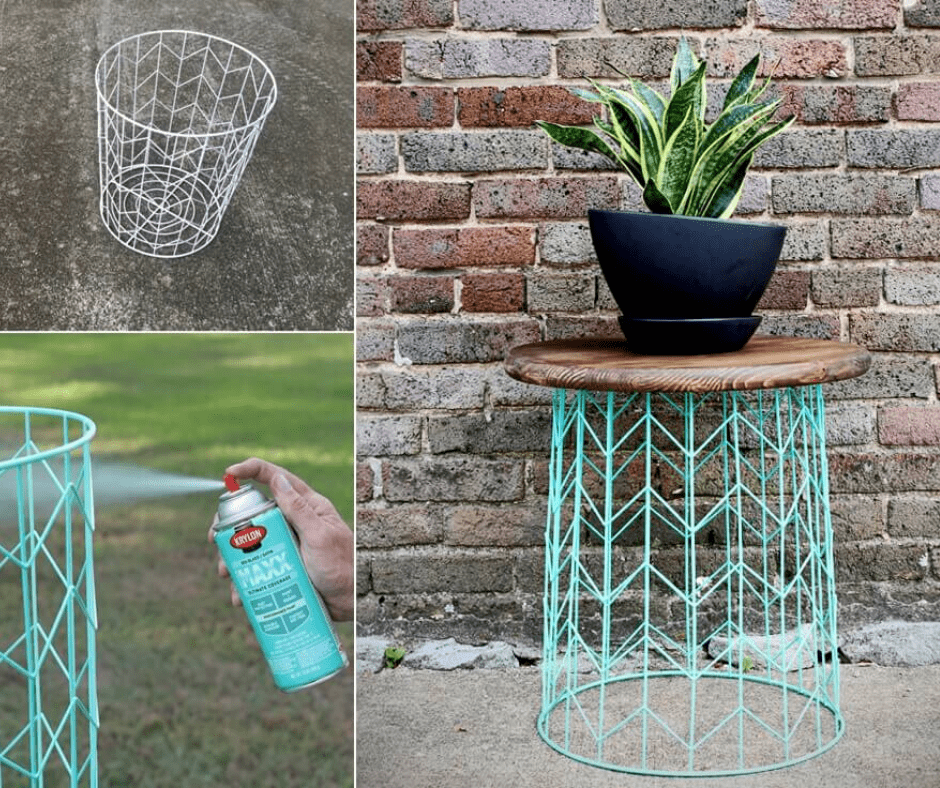 (Image Credit: Amazing Interior Design)
8. Turn Wine Corks Into A Counter Top Planter
If you find yourself with a few extra wine corks while in quarantine (no judgement), use them to make yourself a small planter! This is the perfect addition to your backyard patio table.
(Image Credit: Dish Functional Designs)
9. Turn Wine Corks Into Coasters
If you're a coaster household, here's another use for left-over corks and it's actually pretty simple. Wine corks are ultra absorbent and make great DIY coasters for any wine lover. They also make great out-of-quarantine gifts for friends and family.
(Image Credit: Just Grand Ko)
10. Upcyled Pallets Turned Hammock
We may be stuck inside but that doesn't mean we can't pretend we are on a mini vacation in our backyard. With summer also coming up, this DIY outdoor hammock made from pallets is a great addition to your backyard or garden area.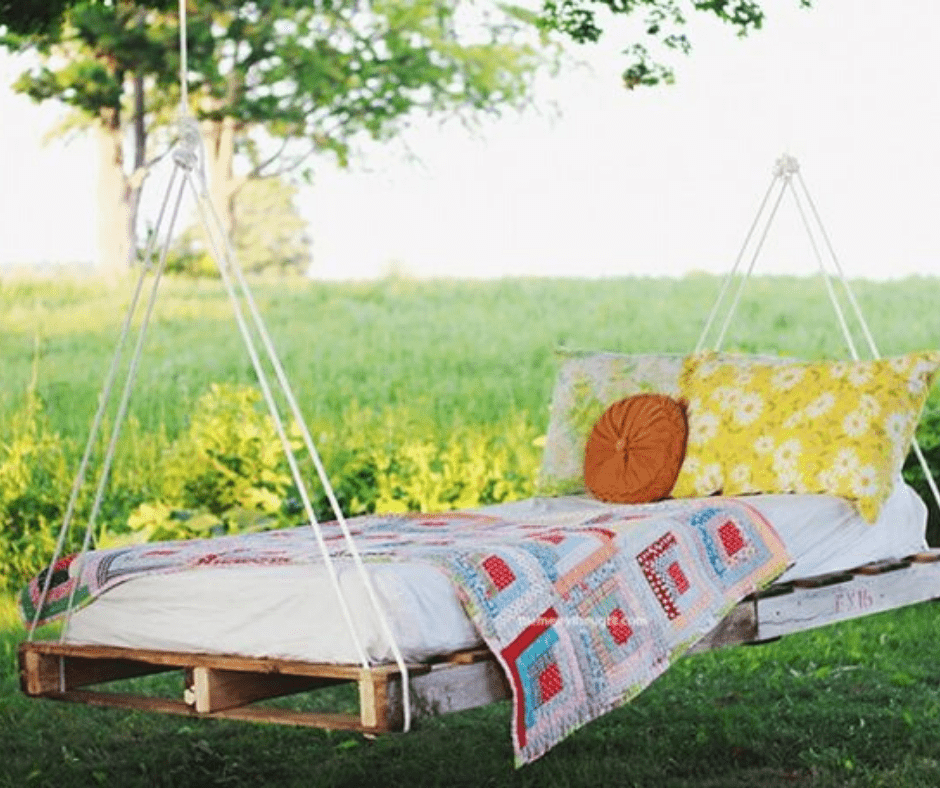 (Image Credit: Realtor.com)
11. Party Cart Made From A Sewing Table
While we may not be able to host parties and entertain friends and family right now, its okay to still plan ahead. When the Shelter in Place is lifted, it will be time to celebrate. There's no better way to jazz up your backyard BBQ then with this DIY food and beverage station made from an old sewing machine table.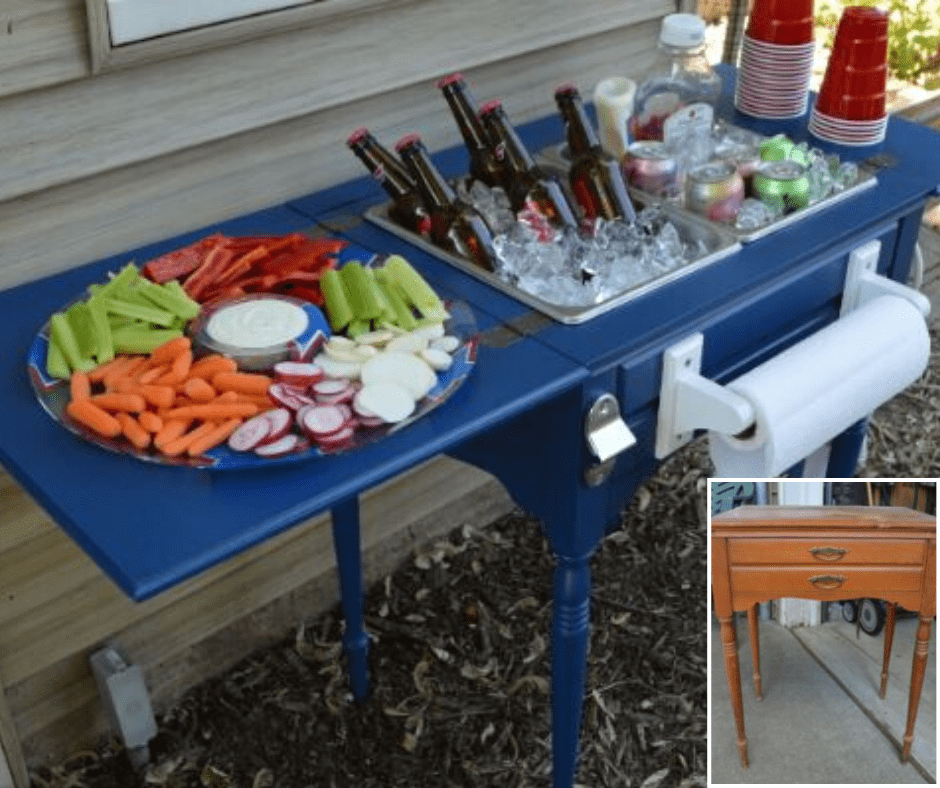 (Image Credit: Ambient Wares)
12. Upcycle A Door Into A Headboard
If you like a more rustic look, try using an old interior door as a headboard. A headboard can be a focal piece in any bedroom and you can customize it to reflect your own personal style.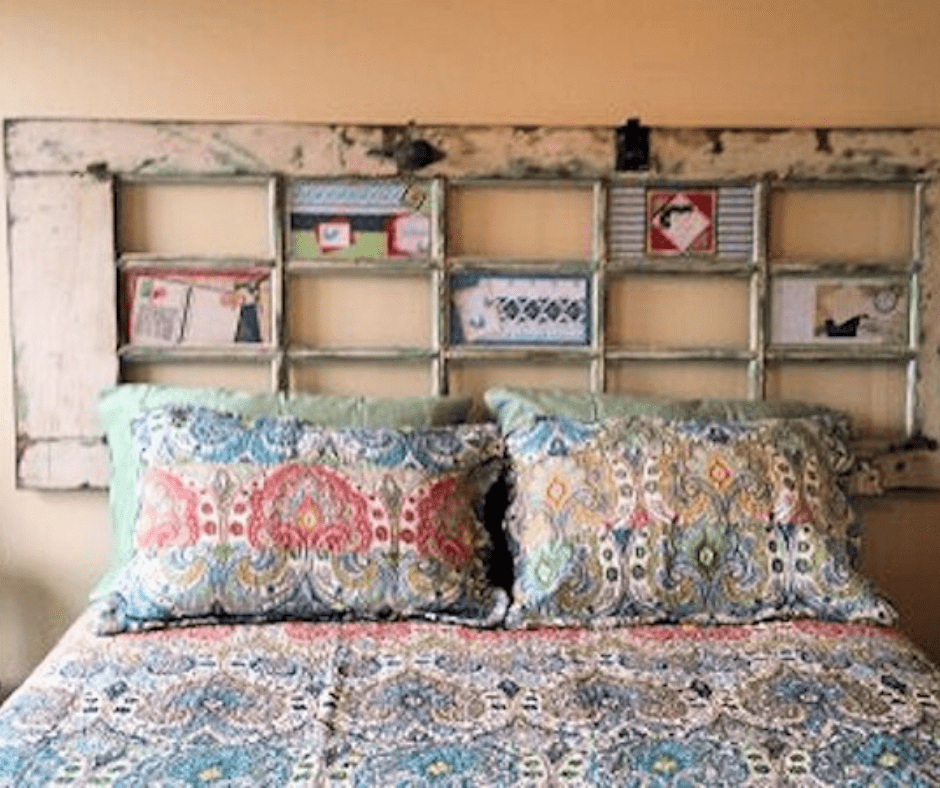 (Image Credit: Ask Wet and Forget)
13. Upcycle Old Bottles Into Bird Feeders
Why not make use of your old glass bottles? There are an endless amount of DIY projects that you can make from old glass bottles like lanterns or even a nifty bird feeder like the ones shown below. While your feathered friends nibble away at the seed-filled bottles, you can relax and watch their happiness unfold.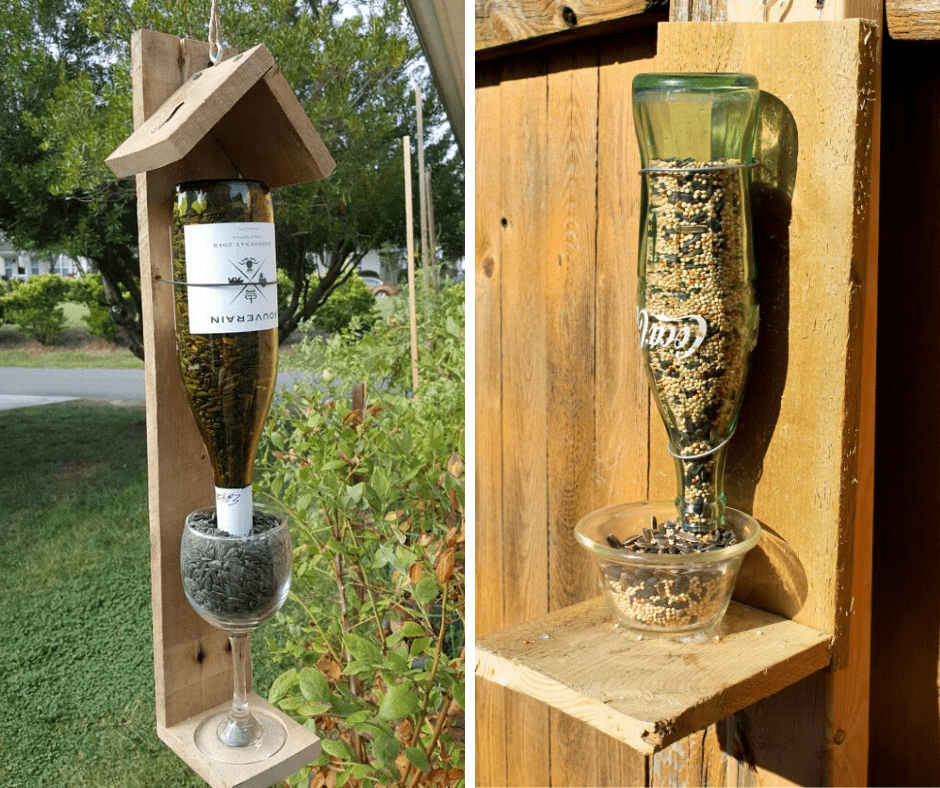 (Image Credit: Etsy)
14. DIY Key Holder From Old License Plates and Keys
It's a lot easier to not loose your keys when they have a home. While there are countless ways to make your very own key holder, this one made from old license plates and old bent keys was one of our favorites but you can really use just about anything! Customize this DIY project to your hearts desire.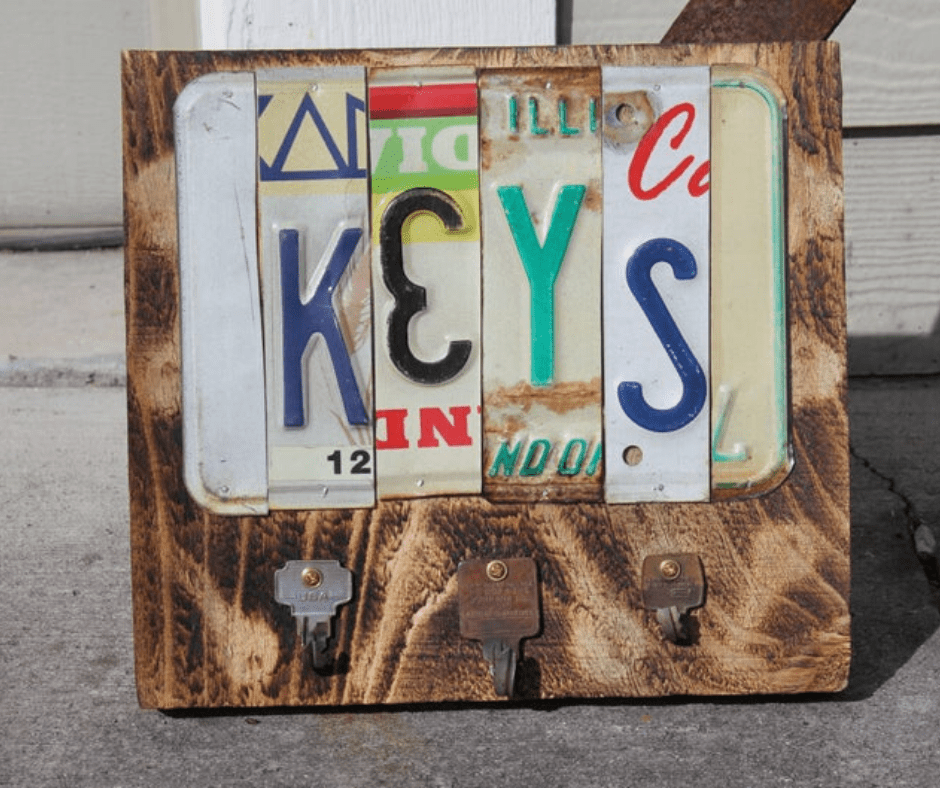 (Image Credit: Etsy)
15. Convert An Old Side Table Into A Pet Bed
Give your old side table a makeover by converting it into a little hideaway for your pooch. Simply remove the door, sand it down, and paint it. Then add a bed for your fur baby and this project is complete!
(Image Credit: My Repurposed Life)
16. Upcycle an Old Mattress Spring Into Storage
Mattresses are the number 1 most common item that we pick-up from our customers. But what if we told you there were countless ways to repurpose a mattress spring before you decided to toss it? Here's a cool example of a kitchen shelf/storage piece made from an old mattress spring.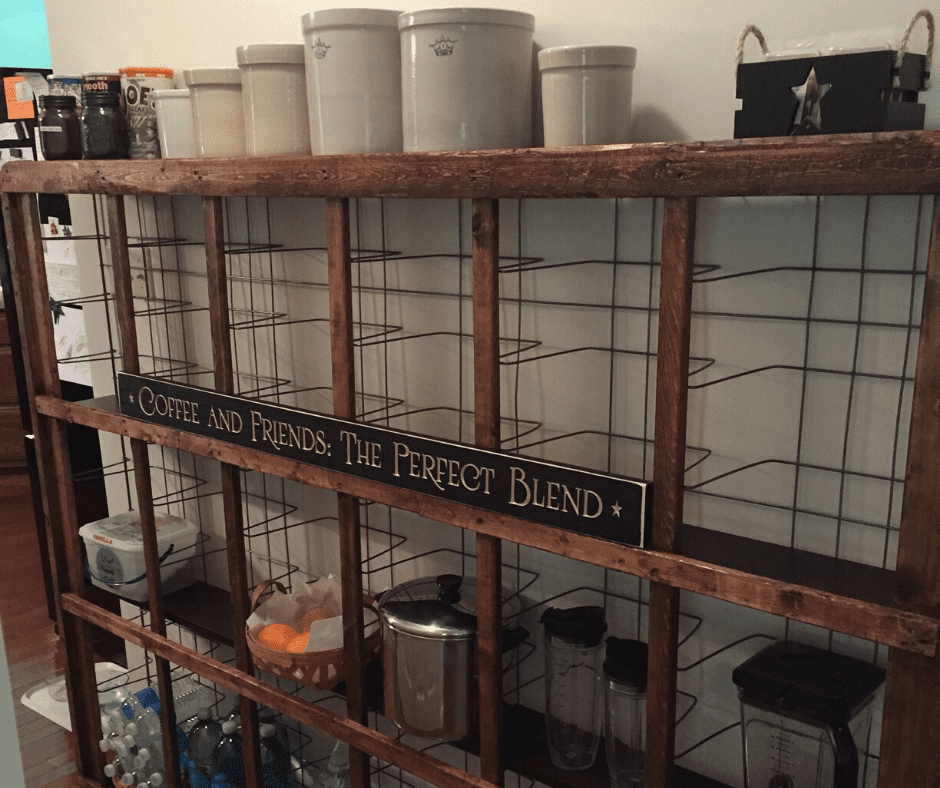 (Image Credit: Pinterest)
17. Mattress Spring Flower Wall
Here's one more example of how a mattress spring can be repurposed with a little creativity. You can customize this project with your choice of spray paint. Then, hang the spring on the side of your house or fence for your very own flower or airplant wall.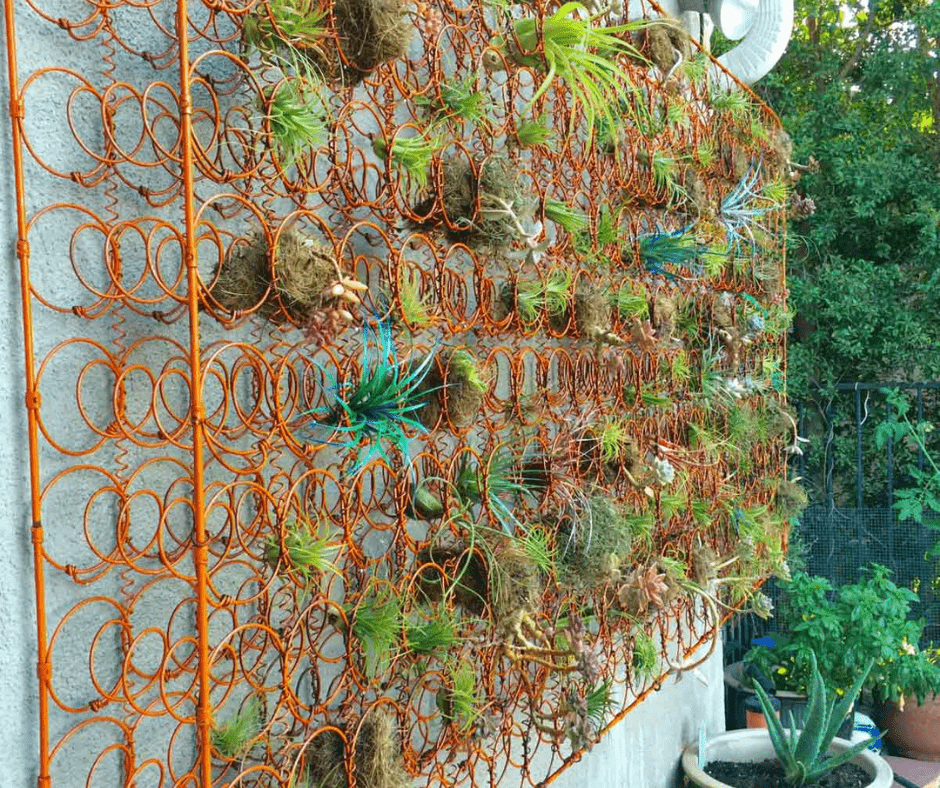 (Image Credit: Family Handy Man)
18. Recycled Rim BBQ Fire Pit
Why spend money on a fire pit when you can make your own from junk you might already have in your garage collecting dust? This fire pit can be made from old car or truck rims and would make a great conversation starter.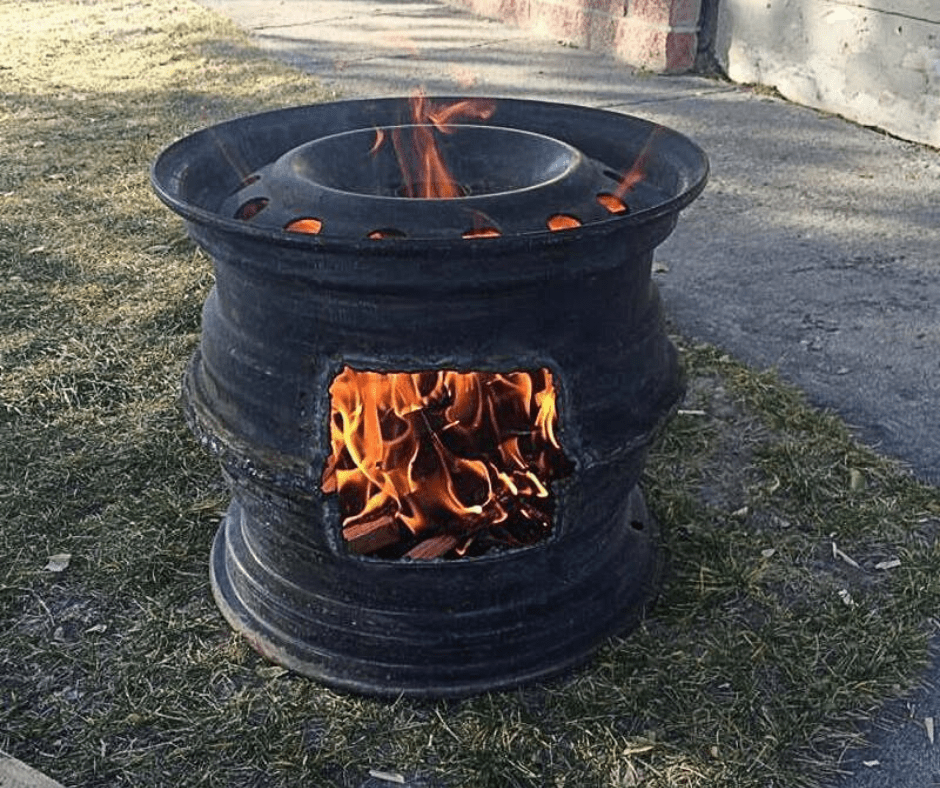 (Image Credit: Home Builders Network)
19. DIY Dog Bowls Made From Chairs
Perhaps you recently got a new dining room set and still have your old chairs laying around. Instead of tossing them, convert them into a raised feeding station for your dog.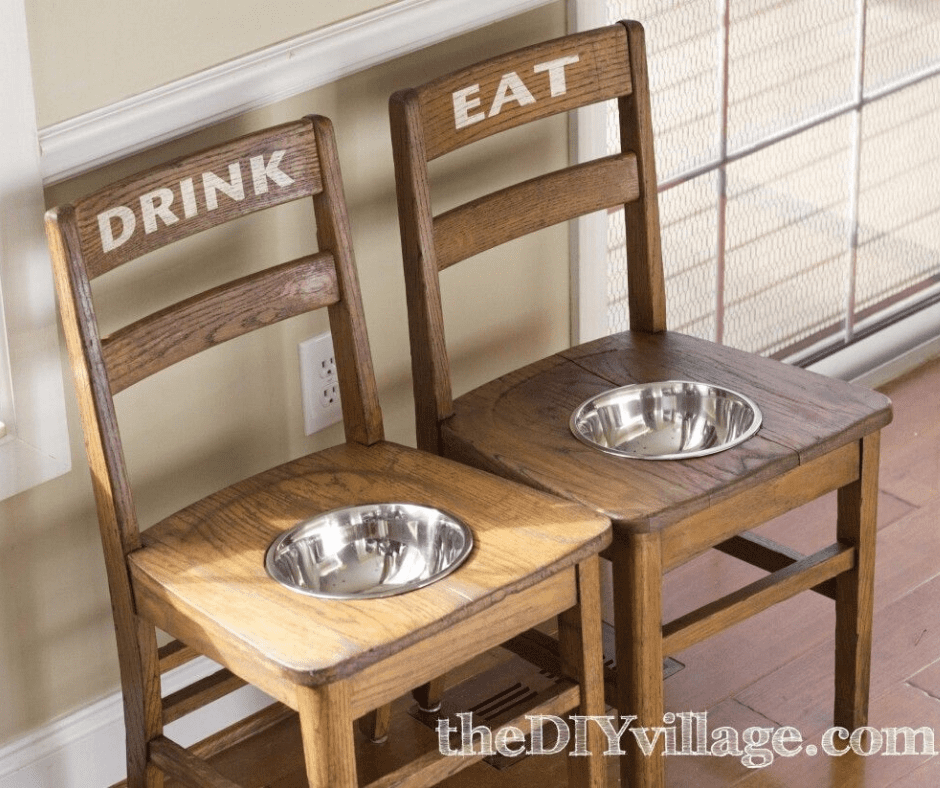 (Image Credit: DIY Village)
20. Convert An Old Crib Into A Desk
Baby items can be tricky when it comes to finding them a second home as many baby items here in California can't be donated. Instead of recycling or tossing the pieces, convert your old baby crib or cot into a desk or craft station for your little.
(Image Credit: Babyology)
21. Convert an Old Refrigerator Into An Outdoor Cooler
The second most common item that we remove from homes are old defunct refrigerators. However, these old unwanted appliances make great outdoor coolers with a little creativity and TLC. This revitalized fridge can also double as a convenient surface for setting up food or drinks.
(Image Credit: Bobvila)
22. Upcycled Old Paint Cans
If you have some empty paint cans lying around, here's a good old fashioned simple reuse project. You can convert them into a hanging planter, or even a storage bin for crafts and miscellaneous knick-knacks.
(Image Credit: Knick of Time)
23. Convert An Old Tire Into An Ottoman
If you are in the market for a new ottoman, you will soon realize that they are a fairly expensive piece of furniture. Instead of spending a fortune, use an old trusty tire and a bag of rope to make your own.
(Image Credit: Apartment Therapy)
24. Convert an Old Pallet Into A Coffee Table
Here's another great use for a discarded wood pallet. With a little handy work, this pallet coffee table will dress up any indoor or outdoor space.
(Image Credit: Realtor.com)
25. DIY Dresser To Wine Rack
Last but not least, here's another great example of an upcycled dresser. Make your very own DIY wine rack by sanding down an old dresser, painting the base with some chalk paint, and re-staining the top. You can even customize it further with a new set of knobs. So many possibilities!
(Image Credit: The Happy House Wife)